ZENB Veggie Mash Pancakes
SERVES 2
PREP TIME 30 minutes
COOK TIME 15 minutes
TOTAL TIME 45 minutes
FEATURED IN RECIPE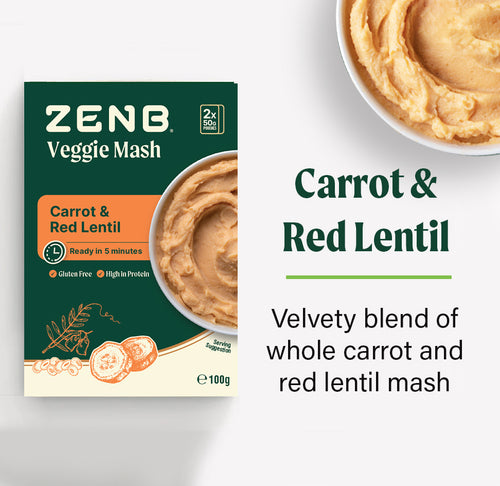 Carrot and Red Lentil Veggie Mash
If you're looking for a delicious Mexican inspired breakfast or brunch, this one is for you!
Try our ZENB veggie mash potato pancakes topped with a chipotle paste fried egg. Served with sliced avocado and tomato, lime, coriander, jalapeño salsa. These flavours combine for the perfect kick of smoky, spicy & zesty goodness. Topped with crumbled feta and fresh coriander.
Give this recipe a try and elevate your breakfast game to the next level
INGREDIENTS
1 x 50g pouch of ZENB Carrot & Red Lentil mash
270ml milk (dairy or plant)
400g Mexican style beans
2 spring onion - finely chopped
3 tbsp of fresh chopped coriander
40g smoky chipotle breadcrumbs
1/2 Red onion - finely diced
100g tomatoes - finely diced
1/2 jalapeno - finely diced
2 lime - 1 juiced, 1 to serve in wedges
4 tbsp olive oil
1 tbsp chipotle paste
2 fried eggs
1 avocado - sliced
Feta
Salt & Pepper to serve
INSTRUCTIONS
1.
To a saucepan, add the ZENB mash pouch flour mix, milk, salt & pepper. Whisk until smooth, bring to the boil and cook for 30 seconds until a smooth and thick mash. Remove from the heat, set aside for 10 minutes to cool down.
2.
To a mixing bowl, mash up the Mexican style beans with a potato mash or fork. Then add the ZENB mash, spring onion, coriander and mix together.
3.
Put the breadcrumbs on a plate and divide out the mash mix into 4. With wet hands, carefully shape into 4 pancake patties about 2-3cm thick.
Coat each pancake with the breadcrumbs and transfer them to the fridge for 30 minutes to chill or over night.
4.
Cut tomatoes in half, de-seed and dice up. In a bowl add the tomatoes, red onion, coriander, juice of a lime, jalapeño & salt for the salsa.
5.
Heat 2 tbsp of olive oil in a frying pan and cook the pancake patties for 3 – 4 minutes each side until golden and crispy.
In a separate frying pan, on a high heat add 1 tsp chipotle paste to the pan with 2 tbsp of olive oil. Crack two eggs into the pan and fry until crispy, season to taste with salt and pepper.
6.
Stack the pancakes on top of each other (2 per portion). Serve with fried egg, slices of avocado, salsa, feta and a lime wedge.
Tasty Tips
If you want to add more of a spice kick, drizzle the pancakes in sriracha or hot sauce.