ENVIRONMENTAL IMPACT OF THE YELLOW PEA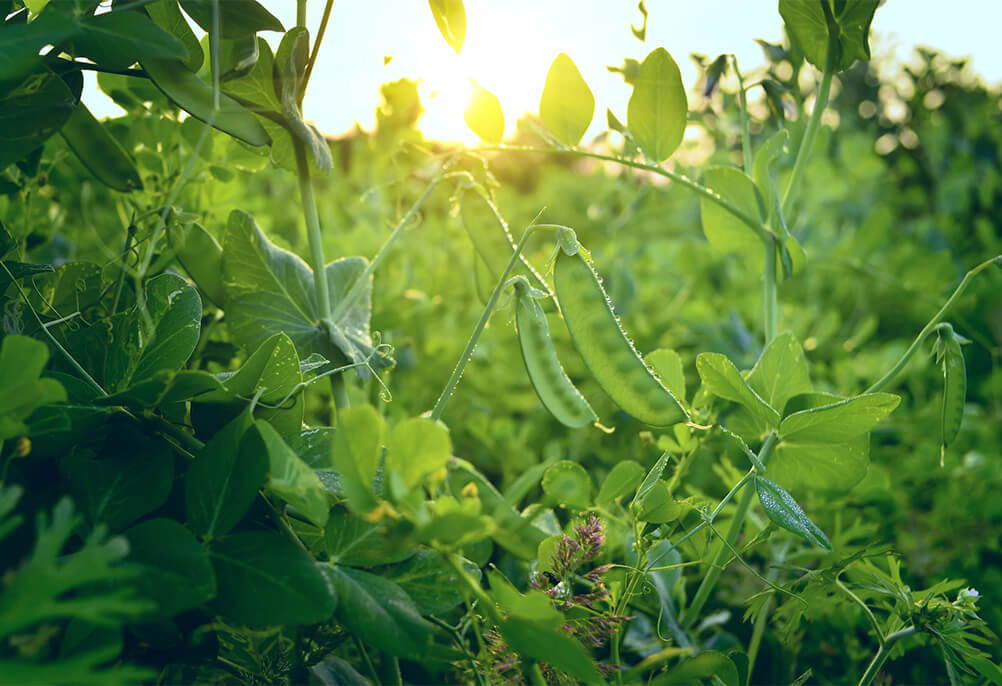 You'll notice we hail yellow pea pasta as the greener choice, but why?
Below there are a selection of research papers which outline the scientific reasons for our claims, and explain why yellow pea pasta can be seen as a more environmentally friendly option than traditional wheat varieties.
Water use efficiency
Peas are well-adapted to semiarid conditions where there is no access to irrigation, being more drought tolerant than cereals (wheat) or oilseeds (canola) (Cutforth et al. 2009). Pea also uses less water than other crops in rotation, with one study showing peas using 34 mm less water than high water use crops like wheat (Angadi et al. 2008). This translates into a high water use efficiency for pea, meaning pea production uses relatively little water to produce yield. In addition, this also means that more water is left over after pea harvest, which provides a benefit for the next crop in rotation.

ADAPTATION OF ALTERNATIVE PULSE AND OILSEED CROPS TO THE SEMI-ARID CANADIAN PRAIRIE: SEED YIELD AND WATER USE EFFICIENCY
Authors: S.V. Angadi, B. G. McConkey, H. W. Cutforth, P. R. Miller, D. Ulrich, F. Selles, K. M. Volkmar, M. H. Entz, and S. A. Brandt (2008)

COMPARING PLANTWATER RELATIONS FOR WHEAT WITH ALTERNATIVE PULSE AND OILSEED CROPS GROWN IN THESE MIARID CANADIAN PRAIRIES
Authors: H W Cutforth, S VAngadi, B G McConkey, M H Entz, D Ulrich, K M Volkmar, P R Miller, and S ABrandt (2009)
Soil microbial diversity
Legumes have been shown to increase soil microbial diversity. This is due to pulse crops 'feeding' the soil different compounds than other crops like wheat, so they complement each other in crop rotations. This has an impact on total production of the crop rotation (helping wheat get access to soil nutrients and reducing root diseases).
GRAIN LEGUMES IN NORTHERN GREAT PLAINS: IMPACTS ON SELECTED BIOLOGICAL SOIL PROCESSES
Authors: N. Lupwayi, A. C. Kennedy (2007)
A META-ANALYSIS APPROACH TO EXAMINING THE GREENHOUSE GAS IMPLICATIONS OF INCLUDING DRY PEAS(PISUM SATIVUM L.) AND LENTILS (LENS CULINARIS M.) IN CROP ROTATIONS IN WESTERN CANADA
Authors: N. Lupwayi, A. C.Kennedy (2018)
---