ZENB Vegan Tahini Mac and Cheese
SERVES 4
PREP TIME 5 minutes
COOK TIME 15 minutes
TOTAL TIME 20 minutes
NUTRITIONAL FACTS
Serving Size: 339.79g

Calories: 500
| | |
| --- | --- |
| Total Fat | 18g |
| Saturated Fat | 2.3g |
| Salt | 1.3mg |
| Carbohydrates | 51.1g |
| Fibre | 14g |
| Protein | 24g |
* Nutrition information is estimated based on the ingredients and cooking instructions as described in each recipe and is intended to be used for informational purposes only. Please note that nutrition details may vary based on methods of preparation, origin and freshness of ingredients used.
FEATURED IN RECIPE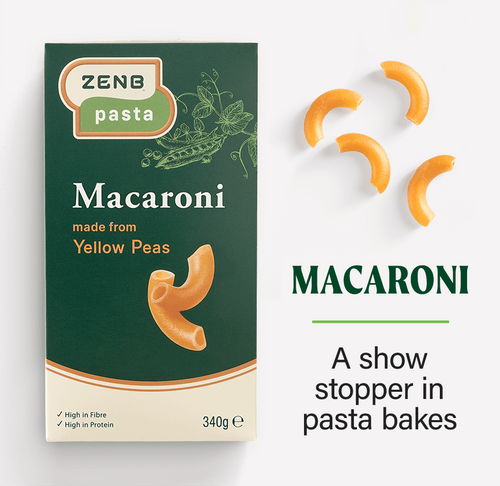 Macaroni Pasta
Looking for a gluten free and vegan way to make Mac and Cheese? This ZENB Macaroni Pasta recipe uses tahini to deliver a delicious twist on this classic dish. This mac and cheese is high in fibre, while providing a source of protein. Enjoy!
INGREDIENTS
1 box (340g) ZENB Macaroni Pasta made from 100% Yellow Peas
2 medium carrots, unpeeled, scrubbed, tops removed
64g tahini paste
2 tablespoons nutritional yeast
1 tablespoon fresh lemon juice
3/4 teaspoon salt
1/2 teaspoon smoked paprika
1/4 teaspoon ground black pepper, plus additional for serving
INSTRUCTIONS
1.
Cook ZENB Pasta as directed on package. Reserve 250ml pasta cooking water; drain. Return pasta to pot.
2.
Chop carrots into ½-inch pieces. Place in microwave-safe bowl with ¼ cup water; cover. Microwave 3-4 min. or until tender. Cool.
3.
Add pasta water, carrots and remaining ingredients to blender jar. Blend 30-45 seconds on high speed until smooth. Transfer carrot mixture to pot. Mix 2-3 min. on medium-low heat until heated through. Serve immediately garnished with black pepper.
Tasty Tips
Sprinkle with toasted sunflower seeds before serving for extra crunch. For 2 servings, this recipe can easily be cut in half.