ZENB Penne with Braised Tuscan Kale & Oyster Mushrooms
SERVES 4
PREP TIME 10 minutes
COOK TIME 25 minutes
TOTAL TIME 35 minutes
NUTRITIONAL FACTS
Serving Size: 558g

Calories: 459
| | |
| --- | --- |
| Total Fat | 11g |
| Saturated Fat | 1.8g |
| Salt | 2.1mg |
| Carbohydrates | 55.2g |
| Fibre | 16g |
| Protein | 23.3g |
* Nutrition information is estimated based on the ingredients and cooking instructions as described in each recipe and is intended to be used for informational purposes only. Please note that nutrition details may vary based on methods of preparation, origin and freshness of ingredients used.
FEATURED IN RECIPE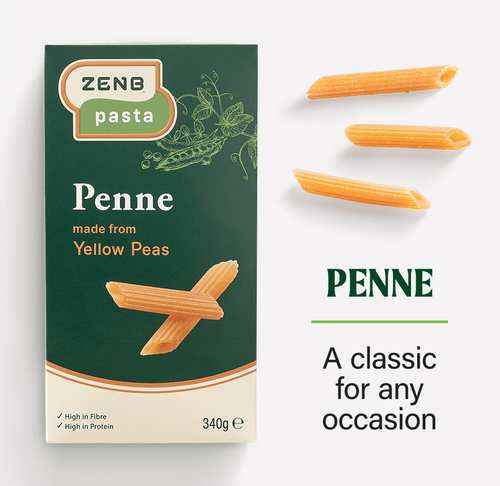 Penne Pasta
This recipe combines a variety of vegetables and spices with ZENB Penne Pasta to create a flavourful, health-conscious dish. This recipe meets a variety of nutrient standards including a good source of fibre, and an excellent source of vitamin A.
INGREDIENTS
• 1 box (340g) ZENB Penne Pasta made from 100% Yellow Peas, uncooked
• 2 tablespoons olive oil
• 2 shallots, thinly sliced
• 3 cloves garlic, sliced
• 2 sprigs fresh thyme, stemmed
• 226g oyster mushrooms, torn into bite-size pieces
• 3/4 teaspoon salt
• 1/4 teaspoon ground black pepper
• 1 bunch Tuscan kale, stemmed, cut into 1-inch-thick strips
• 475ml vegetable stock
• 1/2 teaspoon white soy sauce
• 23g grated Parmesan cheese
• 1 teaspoon white balsamic vinegar
INSTRUCTIONS
1.
Cook ZENB Pasta 2 min. less than directed on package. Drain.
2.
Meanwhile, heat oil in large pot on medium-high heat. Add shallots, garlic and thyme; cook 2-3 min., stirring constantly until translucent. Add mushrooms, salt & pepper; cook 4-6 min. or until most liquid is evaporated.
3.
Reduce heat to medium; add kale and stock. Bring mixture to a boil, scraping up browned bits from bottom of pan. Reduce heat to low; cover. Simmer 8-10 min., stirring occasionally until kale is wilted and tender. Stir in pasta and soy sauce; cook 1-2 min. until pasta is tender. Remove pot from heat; add remaining ingredients. Mix gently until cheese is melted and well combined.
Tasty Tips
Oyster mushrooms grow in a bundle attached to a tough central stem. Cut the thin, tender caps off of the central stem before cooking. Reserve the stem to make a great stock.
White soy sauce is lighter in color and flavor than regular soy sauce. It's a great way to add a big hit of umami without changing the flavor profile of your dish. White soy sauce is available at well stocked grocery stores or online.