ZENB Macaroni Pasta with Sun Gold Tomatoes, More Basil Than You Can Imagine, & Goat Cheese
SERVES 4
PREP TIME 10 minutes
COOK TIME 10 minutes
TOTAL TIME 20 minutes
NUTRITIONAL FACTS
Serving Size: 366.02g

Calories: 459
| | |
| --- | --- |
| Total Fat | 13g |
| Saturated Fat | 4.6g |
| Salt | 1.3mg |
| Carbohydrates | 47g |
| Fibre | 12g |
| Protein | 23g |
* Nutrition information is estimated based on the ingredients and cooking instructions as described in each recipe and is intended to be used for informational purposes only. Please note that nutrition details may vary based on methods of preparation, origin and freshness of ingredients used.
FEATURED IN RECIPE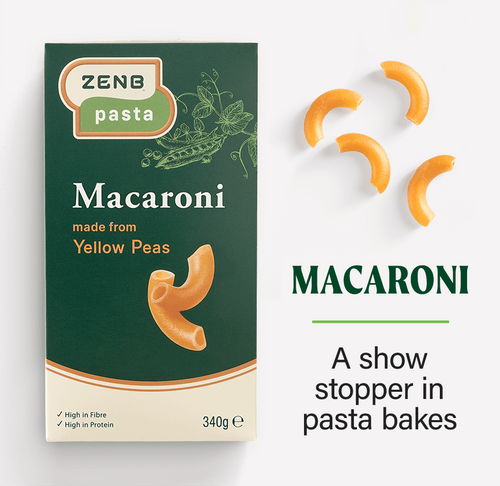 Macaroni Pasta
Enjoy this basil packed ZENB Macaroni Pasta recipe with Sun Gold Tomatoes and goat cheese to get a flavourful dish that is a good source of fibre and high in protein.
INGREDIENTS
1 box (340g) ZENB Elbow Pasta made from 100% Yellow Peas, uncooked
1 tablespoon olive oil
4 cloves garlic, sliced
120ml white wine
108g Sun Gold Tomatoes, halved
½ teaspoon salt
¼ teaspoon ground black pepper
1 tablespoon balsamic vinegar
113g goat cheese, crumbled
60g packed basil leaves
INSTRUCTIONS
1.
Cook ZENB Pasta as directed on package. Drain.
2.
Meanwhile, heat oil and garlic in large skillet 1-2 min. on medium-high heat until edges begin to brown. Add wine; bring mixture to a boil. Reduce heat to medium; add pasta, tomatoes, salt & pepper. Cook 1-2 min. or until heated through.
3.
Remove pan from heat; stir in remaining ingredients. Mix gently to combine.
Tasty Tips
Sun Golds are a small, golden orange cherry tomato variety available at most grocery stores. They have an extra sweet-tangy flavor that works well in recipes raw or cooked. Visit your local farmer's market to discover different in-season varieties of tomatoes and fresh herbs to use in this dish. For 2 servings, this recipe can easily be cut in half.