ZENB Macaroni Broccoli Bake with Crispy Seeded Breadcrumbs
SERVES 2
PREP TIME 10 minutes
COOK TIME 25
TOTAL TIME 45 minutes
NUTRITIONAL FACTS
Serving Size: 626.97g

Calories: 787
| | |
| --- | --- |
| Total Fat | 15g |
| Saturated Fat | 1.4g |
| Salt | 0.7mg |
| Carbohydrates | 99g |
| Fibre | 26g |
| Protein | 41.1g |
* Nutrition information is estimated based on the ingredients and cooking instructions as described in each recipe and is intended to be used for informational purposes only. Please note that nutrition details may vary based on methods of preparation, origin and freshness of ingredients used.
FEATURED IN RECIPE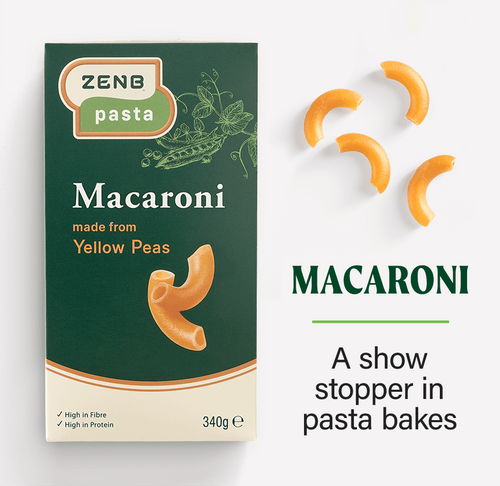 Macaroni Pasta
This ZENB Macaroni Pasta recipe is a delicious vegan pasta recipe that is high in protein, fibre and vitamin B12. Using a mix of seasonings, garlic, and lemon to add delicious flavour, this is a wonderful way to enjoy your ZENB Pasta.
INGREDIENTS
170g ZENB Macaroni Pasta made from 100% Yellow Peas, uncooked
Seeded Breadcrumbs
30g panko breadcrumbs
2 tablespoons toasted sunflower seeds
2 tablespoons nutritional yeast
1 tablespoon Italian parsley leaves
1 tablespoon olive oil
350g small broccoli florets
74.5g cherry tomatoes, halved
1 small clove garlic, minced
1 small lemon
INSTRUCTIONS
1.
Heat oven to 400°F. Cook ZENB Pasta as directed on package. Reserve 1/2 cup pasta cooking water; drain.
2.
Meanwhile, add seeded breadcrumb ingredients to work bowl of small food processor. Pulse 5-10 sec., or until mixture resembles wet sand.
3.
Combine pasta, reserved pasta water, broccoli, tomatoes and garlic in 1-quart baking dish lightly sprayed with nonstick spray. Sprinkle top evenly with breadcrumb mixture. Bake 18-20 min. or until broccoli is tender-crisp and crumbs are golden brown. Garnish with lemon zest before serving.
Tasty Tips
Substitute fresh chives or cilantro for a pop of colour and freshness instead of the parsley. Substitute your favourite shape of ZENB Pasta made from 100% Yellow Peas for the penne.