Winter Chicken Mushroom Pasta
SERVES 2
PREP TIME 15 minutes
COOK TIME 20 minutes
TOTAL TIME 35 minutes
FEATURED IN RECIPE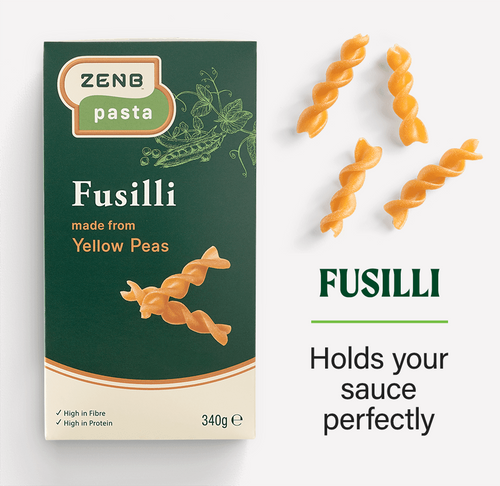 Fusilli Pasta
A simple yet warming pasta dish, perfect for these colder winter months. Created by @modernfoodstories
INGREDIENTS
180g ZENB Fusilli pasta
3 tbsp extra virgin olive oil or (2 tbsp butter + 1 tbsp olive oil)
300g skinless chicken breast strips
1 tbsp taco, cajun or peri peri spice blend (we used taco)
100g wild mushroom mix, cleaned and sliced
1 large clove garlic, minced
50g kale or cavolo nero, chopped
Optional 1/4 cup parmesan or vegan parmesan
Juice of 1/2 lemon + zest
10g fresh parsley, chopped
INSTRUCTIONS
1.
Bring a large pan of water to the boil with a small pinch of salt. Cook the pasta as per the packet instructions. Drain.
2.
Sprinkle the chicken breasts with taco seasoning on both sides (plus optional salt + pepper depending on if it's in your spice mix).
3.
Heat a large non-stick frying pan on a medium heat. Add 1 tbsp of olive oil and cook the mini chicken fillets for approx. 2.5 minutes per side, or until cooked through. Set aside.
4.
Add 2 tbsp of olive oil or butter to the pan. Once melted, add the mushrooms and fry for 3 minutes. Add the garlic + kale for 1 further minute. Season with salt and pepper to taste.
5.
Add pasta + optional parmesan to warm through. Toss through lemon juice, turn off the heat and serve with fresh parsley and lemon zest.
Tasty Tips
Storage tip: Store in tupperware in the fridge for 3 days or Freezer for 2 months.