Vegan Mushroom Miso Ramen
SERVES 4
PREP TIME 15 minutes
COOK TIME 30 minutes
TOTAL TIME 45 minutes
FEATURED IN RECIPE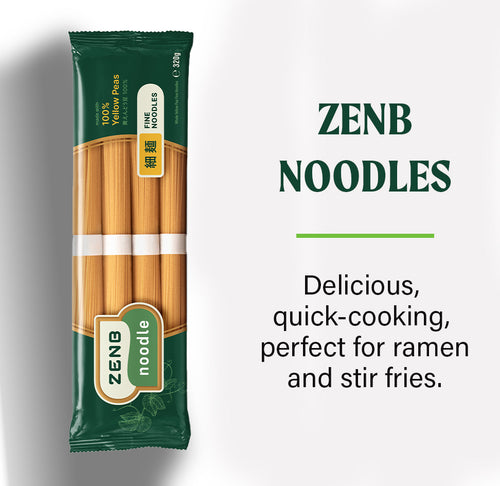 Noodles
Rich and flavoursome broth with delicious ZENB noodles, crispy vegetables and golden tofu make for the perfect vegan ramen.
Dried shitake mushrooms give a real depth of flavour to the broth along with the miso paste and tahini.
Before getting started it is important to note, as you will be adding the noodles to a hot broth you will want to reduce the cooking time of the noodles to begin with, so that they don't overcook and fall apart, so reduce the time to cook the noodles to just 3 minutes.
INGREDIENTS
3 x 80g bundles ZENB noodles
2.5 litres vegetable stock
1 star anise
2.5cm piece fresh ginger, finely grated
1 clove garlic, grated
1 red chilli, finely chopped
10g dried shitake mushrooms
1 bunch spring onions, finely chopped
2tbsp white miso paste
1 tbsp Tahini
2tbsp soy sauce
2 carrots, shredded
150g shitake mushrooms, sliced
2 Pak choi, quartered
1tbsp vegetable oil
280g pack firm tofu, cut into 2.5cm cubes
1tsp crispy chilli sauce
INSTRUCTIONS
1.
Bring a medium pan of water to the boil and add the noodles and stir.
Turn off the heat and cover and sit for just 3 minutes.
As the noodles are being added to the broth you don't want to overcook them prior to adding them to the broth.
2.
To prepare the broth place the vegetable stock in a large saucepan with the star anise, ginger, garlic, chilli, dried shitake mushrooms and half the spring onions.
Bring to the boil and simmer for 20 minutes until you have a rich and flavoursome broth.
3.
Stir the miso paste, tahini and soya into the broth along with the carrots, shitake mushrooms and Pak Choi and cook for 5 minutes more then remove from the heat.
4.
Meanwhile, heat the oil in a frying pan and add the cubes of tofu and cook for 5 minutes all over until golden.
5.
Divide the noodles between individual serving bowls and then ladle over the broth and vegetables.
Top with the golden tofu and serve with extra sliced spring onions and a teaspoon of crispy chilli sauce
Tasty Tips
Crispy chilli sauce is a spicy and umami flavour packed condiment. Made by roasting or frying chillies until crispy and then adding to oil with other flavourings such as crispy garlic and onion. Delicious served on noodles to give a flavour punch and brightness. Available in most major supermarkets.
Prepare the mushroom, ginger, and miso broth ahead if you can as the flavours will develop further. The broth will freeze well for up to 3 months.