Super Green Spaghetti
SERVES 4
PREP TIME 5 minutes
COOK TIME 10 minutes
TOTAL TIME 15 minutes
FEATURED IN RECIPE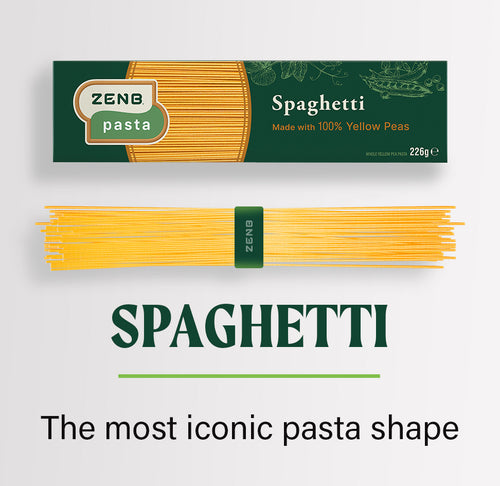 Spaghetti
This recipe is a great way to use up the greens we all tend to have lying around in the fridge. The sauce can be made using a mix of anything you have available and when paired with the ZENB Spaghetti you get a nutritious, delicious and filling easy dinner that is ready in just 15 minutes, making it a great mid-week meal option.
Brought to you by: @fortheutterloveoffood
INGREDIENTS
300g ZENB Spaghetti
200g Kale or any other greens you have available
4 Garlic cloves
3 tbsp Nutritional yeast
1 Lemon, juice of
2 tbsp Olive oil
4 tbsp Tahini
Salt & pepper
Chilli flakes
Lemon zest
INSTRUCTIONS
1.
Add 200g greens and 4 peeled garlic cloves to a pan of boiling water (enough to be completely covered with water). Blanch for 5 minutes. Drain and set aside.
2.
Cook the ZENB Spaghetti according to packet instructions, keeping some of the pasta water for the sauce.
3.
Make the green sauce by adding to a blender the blanched greens and garlic, nutritional yeast, lemon juice, olive oil, tahini, salt and pepper. Blend until smooth, loosening with pasta water as needed.
4.
Stir the green sauce into the cooked pasta, gently heating through on the stove top.
5.
Serve garnished with chilli flakes and lemon zest.
Tasty Tips
This recipe is a great way to use up any greens you have in your fridge. It also works well with broccoli stalks and spinach.
If you aren't vegan, why not try finishing the dish with some ricotta, feta or Parmesan.