Ratatouille Pasta Salad
SERVES 4
PREP TIME 10 minutes
COOK TIME 25 minutes
TOTAL TIME 35 minutes
FEATURED IN RECIPE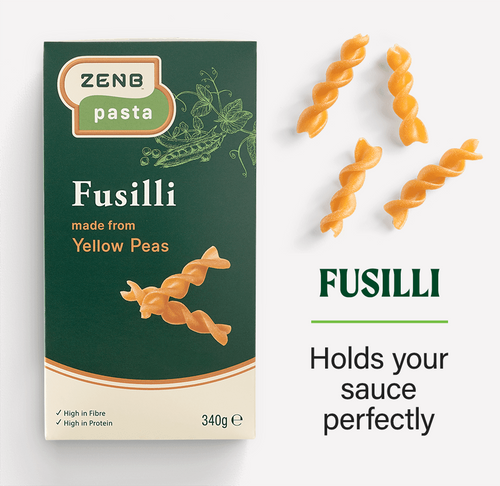 Fusilli Pasta
A simple yet so delicious pasta salad ideal for packed lunches or for a speedy supper. ZENB Fusilli is paired with lots of vibrant vegetables, olives and fresh tomatoes. The zesty basil dressing bring the whole dish together and the rocket add a some extra flavour and crunch. Brought to you by influencer star @happyskinkitchen who's work focuses on creating recipes packed with vitamins and minerals to nourish your skin, paired with ZENB Pasta to make it high in protein and fibre!
INGREDIENTS
340g ZENB Fusilli
1 courgette
1 aubergine
1 bell pepper
1 red onion (all veg above sliced into similar bite size pieces)
A drizzle of olive oil for roasting
200g cherry tomatoes - cut in halves
50g olives of your choice - sliced
2 handfuls of rocket - about 50g
Salt and pepper to taste
Dressing Ingredients
4 tbsp extra virgin olive oil
The juice of 1/2 lemon
1 tbsp balsamic vinegar
1 tsp wholegrain mustard
15g fresh basil - roughly chopped
Salt & pepper to taste
INSTRUCTIONS
1.
Add the chopped courgette, aubergine, pepper and red onion to a large baking tray. Drizzle with some olive oil, salt and pepper.
2.
Toss everything together and place in the oven at 200 degrees Celsius fan for around 25 minutes until the vegetables are coked. Remove from the oven.
3.
In the meantime, make the dressing by simply mixing all the ingredients together.
4.
Cook the ZENB Pasta according to the packet's instructions. Drain the pasta and rinse it under cold water.
5.
Transfer the pasta to a large bowl together with the roasted vegetables, tomatoes and olives.
6.
Pour over the dressing and mix well. Serve with the fresh rocket.
Tasty Tips
Store any leftovers in the fridge for 2-3 days ready for your week ahead!