Penne Pizza Skewers
SERVES 4
PREP TIME 5 minutes
COOK TIME 15 minutes
TOTAL TIME 20 minutes
FEATURED IN RECIPE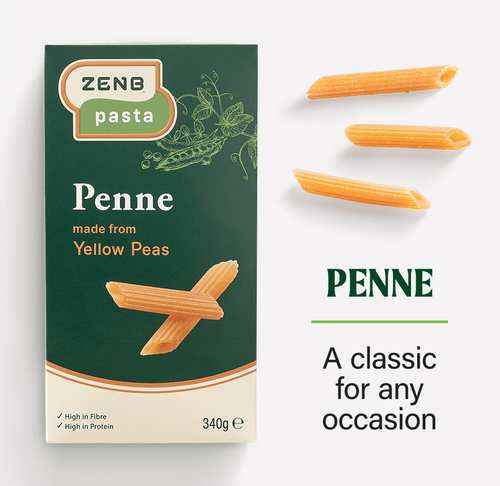 Penne Pasta
Created by @fortheutterloveoffood this is the perfect recipe when you can't decide between pizza and pasta, now you can have them both at the same time!
INGREDIENTS
100g ZENB penne pasta
1 Serving of pizza sauce
½ Green pepper, chopped into cubes
Large handful of grated dairy free cheese
50g Cooked vegan chicken
Chilli flakes
Oregano
8 Skewers
INSTRUCTIONS
1.
Cook your ZENB penne pasta according to packet instructions and run under cold water to cool once cooked.
2.
Skewer 10 pieces of penne pasta onto each of the 8 skewers and lay these on a baking tray.
3.
Top each of these with a teaspoon of pizza sauce, brushing evenly along the top of the pasta so each skewer is coated.
4.
Top with grated cheese, vegan shredded chicken and green pepper.
5.
Place under a hot grill for 2 – 3 minutes until the cheese is melted.
Tasty Tips
Sprinkle with chilli flakes and oregano before enjoying!