Pasta Salad with Prawns and Lemon-Dill Dressing
PREP TIME 10 minutes
COOK TIME 15 minutes
TOTAL TIME 25 minutes
FEATURED IN RECIPE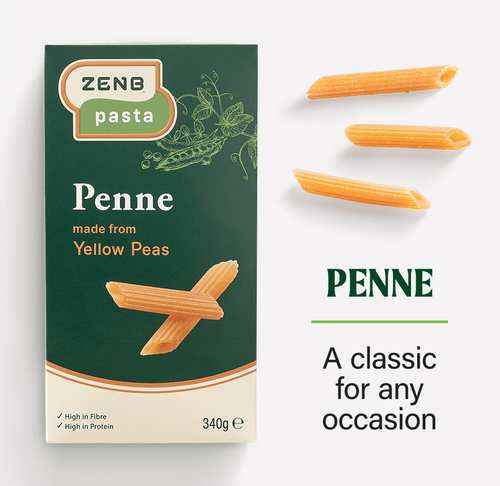 Penne Pasta
Enjoy this light, fresh pasta recipe, heroing our yellow pea penne. Created by @Anna_janecka
INGREDIENTS
Pasta Salad Dressing
5 lemons, halved
2 teaspoons honey
1 cup fresh dill, fronds chopped, stems reserved
1/2 cup extra-virgin olive oil
Pasta Salad
450g ZENB penne pasta
16/20 prawns, peeled, tails removed and deveined
2 cups grape tomatoes, halved
2 cups diced cucumber
1 sliced avocado
Salt and freshly ground black pepper
INSTRUCTIONS
1.
In a small bowl, whisk together the juice of 3 lemons, the honey and chopped dill. Slowly whisk in the olive oil until the dressing is emulsified. Season with salt and pepper. Reserve.
2.
Bring the water to a boil. Drop the pasta and cook until al dente, 9 to 10 minutes. Drain the pasta and run it under cold water until the pasta is cooled. Remove the dill stems.
3.
Fry the shrimp in the earlier prepared mixture. Cook until opaque and cooked through, 3 to 4 minutes.
4.
Add grape tomatoes, cucumbers and avocado into the pasta. Pour the whole liquid and shrimps on top and toss to combine.
Tasty Tips
Season with salt and pepper.