Kale & Chestnut Veganuary Pasta
SERVES 2
PREP TIME 5 minutes
COOK TIME 15 minutes
TOTAL TIME 20 minutes
FEATURED IN RECIPE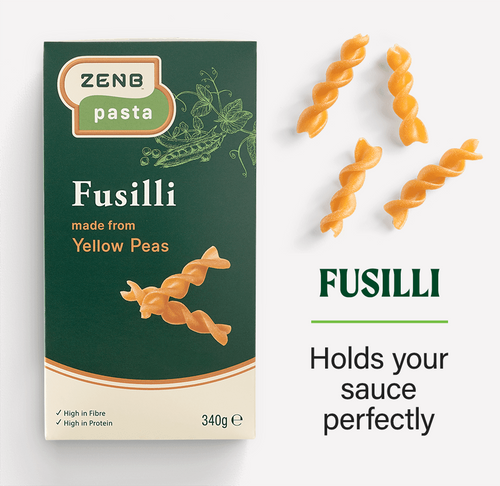 Fusilli Pasta
Looking for a wholesome wintery pasta dish? The ZENB team have you covered!
Keeping it simple with the food blender doing all the work yet packed with flavour, this is a perfect quick & easy midweek evening meal. ZENB Fusilli is paired with a kale, chestnut and lemon pesto and topped with dried cranberries, chestnut & thyme. The pops of sweetness from the cranberries is a perfect partner to the earthy kale leaves and chestnuts. Vegan and Vegetarian friendly!
INGREDIENTS
170g ZENB Fusilli
2 garlic cloves, peeled
1 shallot, peeled & halved
100g kale, stalk removed and roughly cut
6-8 cooked chestnuts, roughly 30g
40ml extra virgin olive oil
Pinch of Salt & Pepper
1/2 lemon juice and zest
20g dried cranberries, finely chopped
Fresh thyme
INSTRUCTIONS
1.
Boil water for the ZENB Fusilli. Cook ZENB Pasta as directed on package.
2.
In a separate saucepan, bring the water to the boil in a saucepan. Salt and add the shallots, garlic & kale. Boil for 1 minute. Using a slotted spoon take all the ingredients out the pan and straight into the food blender.
3.
Alongside the boiled greens, garlic & shallot; add the olive oil, 4 chestnuts, 1/2 Lemon juice and zest, salt & pepper - blend together until the mixture forms a pesto texture.
4.
Once the pasta is cooked and drained, add the kale pesto to the pasta and stir through.
5.
Serve up and top the pasta with dried cranberries, more finely chopped chestnuts and fresh thyme.
Tasty Tips
Add the lemon if you like a citrus kick and add the cranberries if you like a sweet balance to the dish. The two together are a great balance of flavours.