Haste's Kitchen - Triple Cheese, Creamy Chicken, Spinach and Herb Penne Pasta Bake
SERVES 2
PREP TIME 15 minutes
COOK TIME 30 minutes
TOTAL TIME 45 minutes
FEATURED IN RECIPE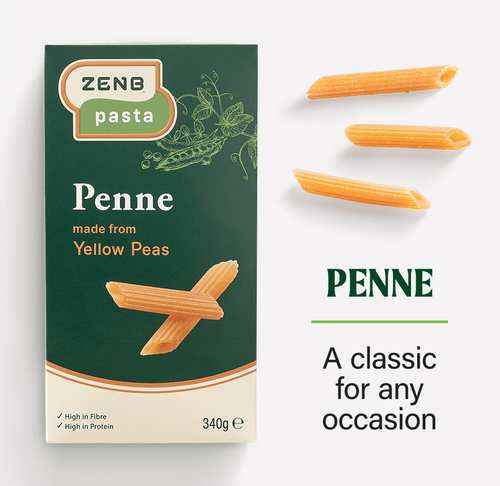 Penne Pasta
Ian Haste whips up a mouth watering triple cheese pasta bake, made using our ZENB yellow pea penne - perfect for an alfresco dinner party
INGREDIENTS
200g x Fusilli ZENB Yellow Pea Pasta
1 x chicken stock pot
Salt
1 x tbsp olive oil
2 x chicken breasts sliced
4 x chopped spring onions
1/2 x glass white wine
Juice one lemon
1 x red chilli
Rind of one lemon
1 x tsp sweet chilli
1 x tsp black garlic
2 x handfuls spinach
2-3 x tbsp  creme fraiche
2 x tbsp x Parmesan
Handful basil and parsley chopped
50g x mature cheese
40g x mozzarella
1 x tbsp Parmesan for topping
INSTRUCTIONS
1.
Get a pan of water heated to a rolling boil and season with salt and a chicken stock pot.
2.
Add the ZENB pasta to the water and cook for around 8-10 mins.
3.
To a frying pan, heat to a medium / high heat and add olive oil, then season the chicken and add to the oiled pan.
4.
Add the chopped spring onions, splash of white wine, red chilli, lemon rind and juice.
5.
Keep everything moving around the pan making sure the chicken is cooking on all sides, then add the black garlic and sweet chilli Sauce, add a ladle of the chicken stock- pasta water. Cook for 3-4 mins until the chicken is cooked.
6.
Add the spinach and crème fraîche then cook until the spinach wilts, add 3/4 of the Parmesan and stir though to create a creamy Sauce.
7.
Add chopped basil and parsley, then add pasta to the chicken sauce.
8.
Spoon the mixture in an oven proof dish, top with the various cheeses and place in the oven for around 15-20 mins at 180c. 
Tasty Tips
You can use any type of cheese to complete the topping, or mixing rosemary oil with chopped chives works really well too!