Gizzi Erskine's 5-Minute Agile Nduja Cacio e Pepe
SERVES 2
PREP TIME 10 minutes
COOK TIME 5 minutes
TOTAL TIME 15 minutes
FEATURED IN RECIPE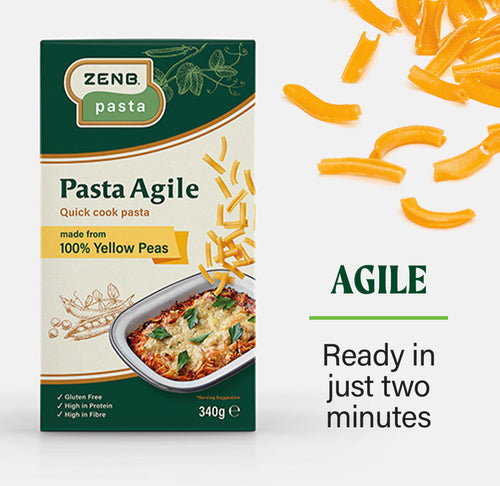 Quick Cook Pasta Agile
This is a dinner that made it from fridge to table in under 5 minutes made using the new ZENB Pasta Agile. The dish is made by melting nduja into the foaming butter and peppercorns, before being emulsified with pasta water and pecorino into a smooth, creamy and spicy sauce. We devoured it on the shoot.
Brought to you by: Gizzi Erskine @gizzierskine
INGREDIENTS
120g ZENB Pasta Agile
80g unsalted butter
50g Parmesan or Pecorino
30g Nduja
1/2 teaspoon freshly ground black pepper
A squeeze of lemon juice
INSTRUCTIONS
1.
In a large saucepan, bring water to the boil and season with salt
2.
Add the ZENB Pasta Agile to the water and cook for just 1 minute then drain, reserving some of the cooking water
3.
In a pan, add the butter and black pepper over medium heat, add the nduja and stir to break it up
4.
Once broken down, combine with the butter and pepper before turning the heat to low
5.
Add the pasta, then immediately add a splash of the reserved pasta water, lemon juice and cheese and stir until everything has emulsified and is lovely and silky
6.
To serve, top with some extra cheese and some torn basil leaves.
Tasty Tips
The key to this dish is perfecting the smooth, creamy spicy sauce. It's crucial to reserve your pasta water and add it to this sauce, to get a really silky consistency.