Creamy ZENB Cajun Chicken & Sausage Penne
SERVES 6
PREP TIME 10 minutes
COOK TIME 20 minutes
TOTAL TIME 30 minutes
NUTRITIONAL FACTS
Serving Size: 309g

Calories: 474
| | |
| --- | --- |
| Total Fat | 18g |
| Saturated Fat | 5.6g |
| Salt | 3.1mg |
| Carbohydrates | 34g |
| Fibre | 7.3g |
| Protein | 36.1g |
| Iron | 3.9mg |
* Nutrition information is estimated based on the ingredients and cooking instructions as described in each recipe and is intended to be used for informational purposes only. Please note that nutrition details may vary based on methods of preparation, origin and freshness of ingredients used.
FEATURED IN RECIPE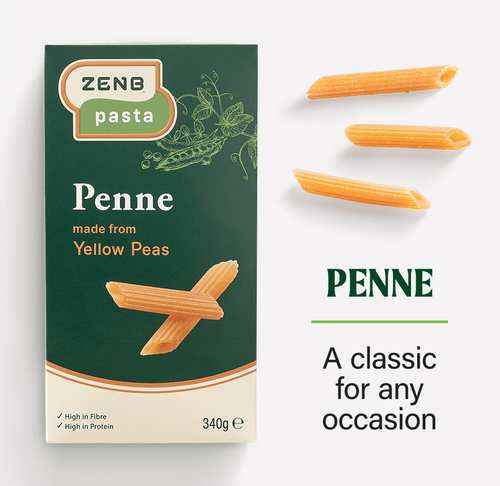 Penne Pasta
This ZENB Penne Pasta recipe features Cajun Chicken, smoked sausage, and parmesan cheese to create a flavourful dish for six. Not only will you enjoy the mix of flavours, but you'll get a high source of protein and fibre, also this dish is a source of calcium, vitamin K and iron!
INGREDIENTS
1 box (340g) ZENB Penne Pasta made from 100% Yellow Peas, uncooked
2 tablespoons olive oil
1 pound boneless skinless chicken breasts, cut into bite-size pieces
2 tablespoons Cajun seasoning
1/4 teaspoon each salt & ground black pepper
2 links smoked sausage, cut into ½-inch slices
3 cloves garlic, minced
2 teaspoons all-purpose flour
3 tablespoons sour cream
62g shredded Parmesan cheese
1 tsp dry chopped Italian parsley, plus additional sprigs for serving
INSTRUCTIONS
1.
Cook ZENB Pasta as directed on package. Reserve 237ml pasta water, drain.
2.
Heat oil in large pot on medium-high heat. Add chicken; sprinkle with Cajun seasoning, salt & pepper. Cook 4-5 min., stirring occasionally until golden brown. Add sausage; cook 3-4 min. until edges start to brown. Add garlic; cook 30 sec. stirring constantly until fragrant. Sprinkle flour over skillet.
3.
Stir in reserved pasta water and sour cream until well combined. Bring mixture to a simmer. Add pasta, cheese and parsley; mix gently until well combined. Serve immediately garnished with additional parsley.
Tasty Tips
For a spicier dish, use smoked andouille sausage. For a less spicy dish, reduce the Cajun seasoning to 1 tablespoon.