Chicken, peanut, leek and broccoli stir fry with ZENB Thin Noodles
SERVES 4
PREP TIME 19 minutes
COOK TIME 15 minutes
TOTAL TIME 35 minutes
FEATURED IN RECIPE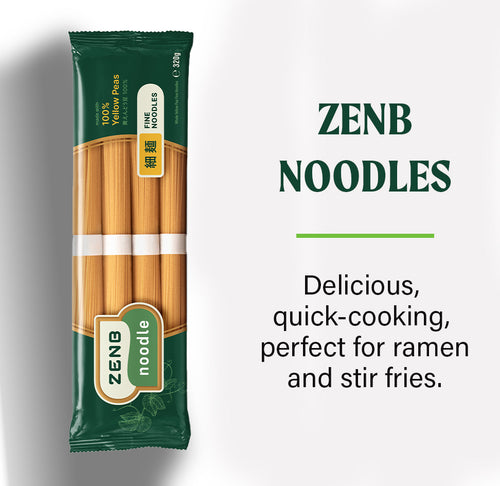 Noodles
Get ready to impress with this irresistible Chicken, Peanut, Leek and Broccoli Stir Fry!
This vibrant and flavourful dish brings together the rich umami of tender chicken, the delicate sweetness of leeks, the satisfying crunch of broccoli, and the nutty creaminess of peanuts in a harmonious symphony of flavours and textures.
Sounds delicious but worried it may be a bit complicated?
Fear not! it's simple to prepare and doesn't require hours in the kitchen, so whether you're a seasoned stir-fry enthusiast or a novice in the kitchen, this recipe is a breeze to whip up, making it the perfect choice for a quick and satisfying weeknight meal.
INGREDIENTS
2 x 80g ZENB Noodles
1 bunch spring onions, trimmed
2.5cm piece fresh ginger
50g fresh coriander
1 red chilli
2 cloves garlic
1 stick lemongrass
1tbsp crunchy peanut butter
2tbsp sweet chilli sauce
2tbsp soy sauce
2tbsp vegetable oil
300g chicken breast fillet, cut into 2.5 cm strips
1 leek, chopped
1 head broccoli, cut into small florets
3 tbsp salted peanuts, chopped finely
1 lime, cut into wedges
INSTRUCTIONS
1.
Bring a medium pan of water to the boil and add the noodles.
Stir and then turn off the heat and cover and sit for just 4 minutes.
As you will be adding them to the wok to cook further you don't want to overcook them before adding to the stir fry.
Drain and set aside.
2.
Place the spring onions, ginger, coriander, chilli, garlic and lemongrass in a food processor and blitz until you have a coarse paste.
3.
In a bowl mix together the peanut butter, sweet chilli sauce and soy and 2 tablespoons of water to make a runny sauce. Set aside.
4.
Heat the oil in a wok over a high heat and add the chicken strips and cook for just a minute until starting to turn golden.
Stir in the paste and cook for a few minutes more before adding the leek and broccoli and tossing well with the chicken and paste.
Cook for 4 minutes stirring regularly.
5.
Add the noodles to the wok and toss well with the vegetables and heat through for just a minute.
Pour over the peanut sauce and give everything a final mix and cook through for a minute before sprinkling over half of the chopped peanuts.
Serve in bowls sprinkled with extra peanuts and wedges of lime for squeezing over.
Tasty Tips
This recipe also works well with a chicken meat substitute.