Berbere-Spiced Crispy Skin Chicken & Vegetables with ZENB Macaroni Pasta
SERVES 4
PREP TIME 15 minutes
COOK TIME 50 minutes
TOTAL TIME 65 minutes
NUTRITIONAL FACTS
Serving Size: 468g

Calories: 683
| | |
| --- | --- |
| Total Fat | 21g |
| Saturated Fat | 4.7g |
| Salt | 1.4mg |
| Carbohydrates | 67g |
| Fibre | 16g |
| Protein | 42g |
| Vitamin A | 944.2mcg |
* Nutrition information is estimated based on the ingredients and cooking instructions as described in each recipe and is intended to be used for informational purposes only. Please note that nutrition details may vary based on methods of preparation, origin and freshness of ingredients used.
FEATURED IN RECIPE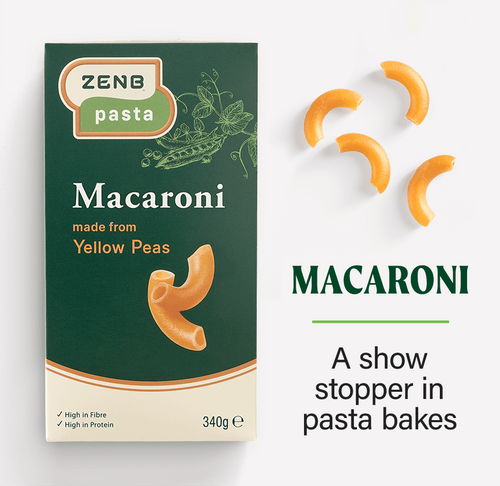 Macaroni Pasta
This chef-created recipe brings together ZENB macaroni Pasta with berbere-spiced chicken and vegetables to elevate the taste of your next kitchen creation. High in protein, a source of fibre and high in vitamin A, this recipe is something that is sure to leave everyone happy.
INGREDIENTS
4 teaspoons olive oil, divided
tablespoon berbere spice, divided
226 g cubed butternut squash, cut into 1-1/2 inch pieces
medium red onion, cut into 3/4-inch-thick slivers
113g rainbow baby carrots, halved lengthwise
teaspoon each salt & ground black pepper
bone-in skin-on chicken thighs
box (340g) ZENB Pasta made from 100% Yellow Peas, uncooked
small lemon, zested, juiced
cup golden raisins
coarsely chopped Italian parsley, plus additional for serving
INSTRUCTIONS
1.
Preheat oven to 220°C. Whisk 2 teaspoons each, oil and berbere spice in large bowl. Add squash, onions, and carrots; toss to combine. Combine remaining oil, berbere, salt & pepper in large resealable plastic bag. Add chicken to bag; seal and turn bag until chicken is well coated.
2.
Heat large cast iron skillet on medium heat. Add chicken, skin-side down. Cook undisturbed, 6-8 min. or until skin is golden brown and crisp. Transfer chicken to clean bowl. Remove skillet from heat. Add vegetable mixture; return chicken to skillet atop vegetables. Bake 35-40 min. or until chicken is deep golden brown and cooked through (75°C).
3.
Meanwhile, cook ZENB Pasta as directed. Drain, return to pot. Stir in lemon juice & zest, raisins and parsley. Serve pasta topped with chicken, roasted vegetables and additional parsley leaves.
Tasty Tips
Berbere spice plays a key role in Ethiopian cuisine. The spice blend is usually made with ground red chiles, ginger, fenugreek, coriander, cumin, cloves and cardamom. It is available in the spice aisle of well-stocked grocery stores or online.
For even more flavour, refrigerate chicken mixture in the resealable plastic bag overnight to marinate. Always discard any liquids that have accumulated during marinating for food safety. This recipe utilises the deep, even heat of a cast iron skillet to achieve a crispy skin on the chicken. Substitute any heavy bottom, oven-safe skillet for the cast iron pan.
Add extra crunch to this dish by sprinkling with 30g toasted slivered almonds before serving.