Agile - One Pot Pesto Pasta
SERVES 2
PREP TIME 10 minutes
COOK TIME 10 minutes
TOTAL TIME 20 minutes
FEATURED IN RECIPE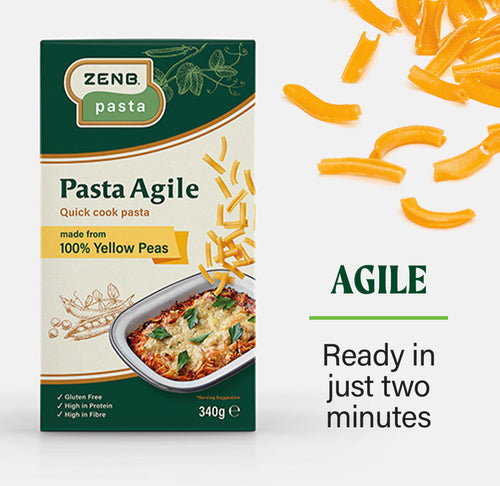 Quick Cook Pasta Agile
A very quick hemp pesto cooked with the pasta and peas for a vibrant green bowl.
This recipe is filled with flavour and glorious greens, but best of all it;s a dish that can help you use up any excess ingredients that may otherwise go to waste. The toasted breadcrumbs can be made with the end of a loaf of bread and kept for up to a month in a sealed container.
The pasta is filled with greens and the top tip if you're using kale is to make sure you use every inch including the stem. Simply strip the leaves from the stem and then cut the stem really finely and cook it along with everything else.
Brought to you by: @Lauren_Lovatt
INGREDIENTS
Toasted Breadcrumbs
50g bread, torn into small pieces
3 tbsp olive oil
1/2 tsp smoked paprika
1/4 tsp smoked salt
Hemp Pesto
1 bunch parsley
150g hemp seeds
1 lemon, zest and juice
1/2 tsp chili flakes
1/2 tsp sea salt
150ml olive oil
Pasta
100g ZENB Pasta Agile
50g frozen peas
25g seasonal greens such as kale or spinach
INSTRUCTIONS
1.
Place the bread, olive oil, smoked paprika and salt into a small food processor and pulse into breadcrumbs.
2.
Add the breadcrumbs into a small frying pan and toast them on a medium heat until crisp, set aside.
3.
Wash and chop the parsley using the stalks as well.
4.
Place into a food processor with half the hemp seeds, lemon zest and juice and seasonings, pulse until well combined then stream in the oil gradually.
5.
When the ingredients are combined add the second half of the hemp seeds, lightly process and then store in a glass jar in the fridge.
6.
Heat a medium sized frying pan and add the peas, pasta and water and cook for three minutes until everything in the pan is cooked.
7.
Add 4 tbsp of the pesto to the pasta and fold it through so everything is well combined.
8.
Serve the pasta in two bowls and sprinkle with breadcrumbs and additional pesto as required.
Tasty Tips
Feel free to a handful of Fresh Leaves as an optional garnish.