In The Kitchen With: Haste's Kitchen
Former Gastro-pub chef and current Men's Health writer, Ian Haste has been running his enormously popular Haste's Kitchen YouTube channel since 2014. Creating a wealth of easy to follow, delicious and healthy meals, Ian specialises in making dishes people can recreate at home. Ian's passion for bringing a modern twist to traditional recipes meant we couldn't wait to see what he'd create using the ZENB Yellow Pea Penne pasta.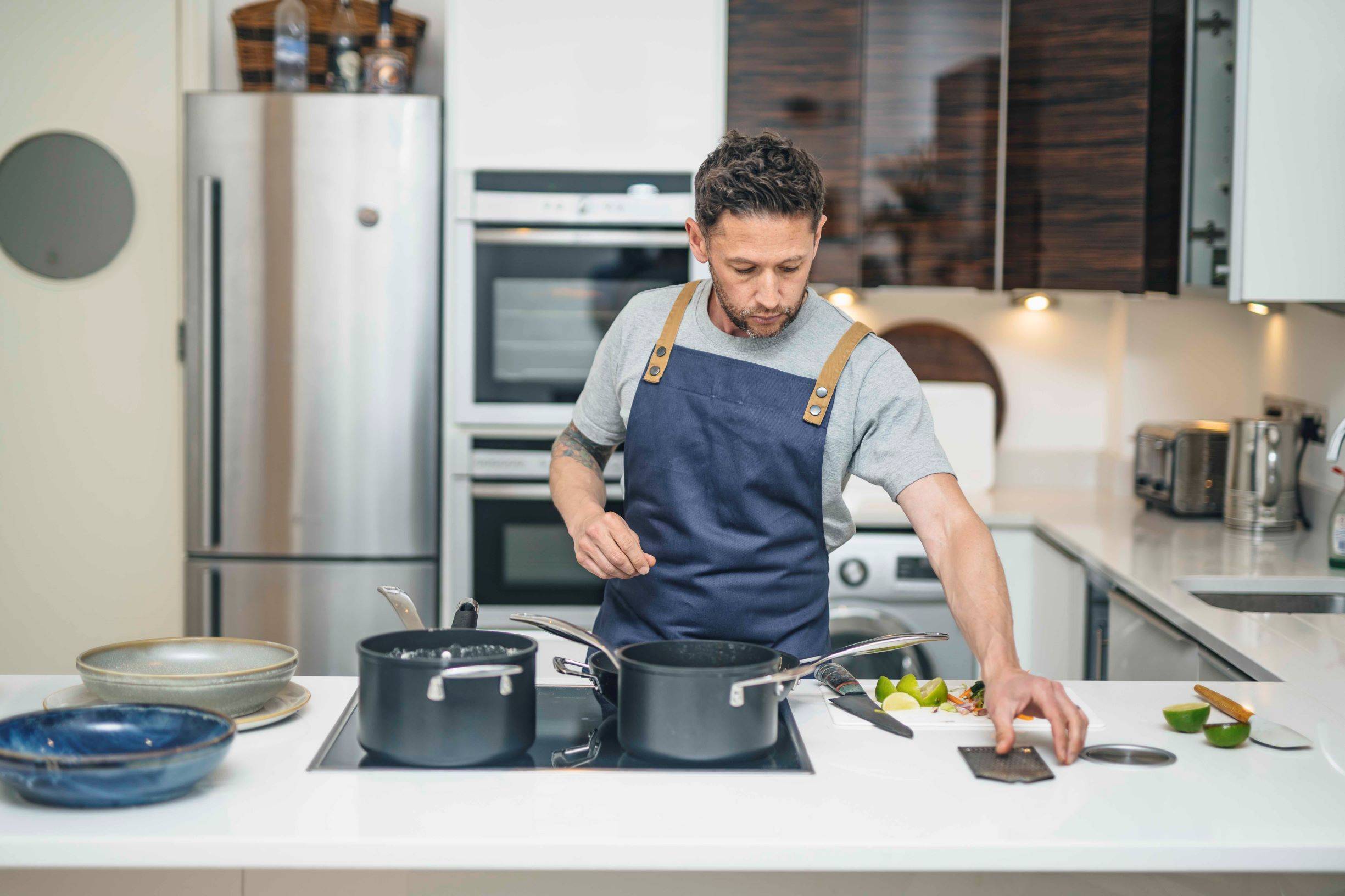 Discover how to make Ian's tasty triple cheese, creamy chicken and herb ZENB penne pasta bake below. Or follow the step by step instructions here - enjoy!
Discover more about Ian Haste and where his inspiration for his tasty Haste Kitchen dishes come from!
Tell us a bit about you, how long have you been cooking for? How did Haste's Kitchen start?
I was a head chef 24 years ago for a local gastro pub, I then came out of the industry to work within a software company (I found the long hours ridiculously over whelming) I then worked in London for 12 years. My wife worked away in America for large periods of the year but when we wanted to have kids, we decided to move back to London. This is when Hastes Kitchen started, I wanted to create healthy quick recipes that were easy for anyone to learn, I filmed my first video on YouTube, and it went from there. Jamie Oliver found the Channel and offered me a FoodTube contract for his channel. Move forward 8 years and Hastes Kitchen is continuing to grow and supply numerous brands and company's with recipes and ideas.
What are your favourite dishes to make?
Anything Italian inspired, Thai cuisine and my Sunday lunch has a bit of a reputation to bring too many people over to eat.
Lockdown has inspired many of us to rediscover the joys of cooking – what advice would you give to anyone who is keen to do more cooking?
I would advise cooking should be fun and inventive, so try and get the family involved as much as possible and pass on skills to children. Get involved with growing, preparing experimenting with different vegetables and produce and also with trying various cuisines.
Where do you find inspiration for your dishes?
I find massive inspiration from travel with so many cuisines becoming popular from places we are still learning from, i.e. Middle Eastern areas, Afgan, Albanian, Syrian, Serbian etc.
Have you ever cooked with Yellow Peas before?
Yes, Spinach and yellow split pea Dahl is one of my favourite dishes.
How did you find the pasta cooked?
Great bite, perfect when cooking  al dente, holds together really well and If I'm perfectly honest, I couldn't tell the difference between ZENB and traditional flour pasta.
How have you found using ZENB Pasta Agile so far? What's the biggest benefit?
Pasta Agile's speedy cooking time is perfect for those quick recipes needed for my kids. I love that the pasta maintains its bite too, which so many other gluten-free ones don't.
ZENB Pasta Agile is a versatile ingredient because it can also be used in bakes, soups, stews and more. Are there any more unusual dishes you'd be keen to try Pasta Agile in?
We recently made a left-over chicken broth with sweetcorn and loads of fresh chilli and the Agile worked perfectly as the noodle replacement. We have also tried a nduja sausage and creamed spinach dish which worked beautifully with some of the Pasta blanched

You create a lot of family friendly recipes – do your children ever want to join you in the kitchen?
Yes, my daughter absolutely loves the kitchen and will join me at any availability. It's so important for our children to understand food groups, where they come from, health benefits, nutritional values and the huge variety of cuisines in the world.

Eating seasonally is a big topic right now, do you have any tips you can share on how we can incorporate seasonal ingredients into our meals?
I highly recommend everyone to look into foraging courses, there's so many great ones around and these will teach you all the basics on seasonality and wheat can be used in your surrounding areas. I would also look at trying to grow any crops you can within the garden on even window boxes. Chasing the seasons is so, so important.
What ingredients couldn't you live without?
Spices! I always have a huge spice pantry which I add too from any travels I go on. I'm also a huge greens lover, so brascicas are a huge favourite in our house. I also love pasta, rice and working with spicy curry type recipes.
At ZENB we are dedicated to helping raise awareness around issues of food waste and you recently wrote an article on food waste. What advice would you give to people trying to make proactive changes?
The simplest thing is to be aware of food dates and let the freezer be your friend. If the produce is running out of date, simply cook it and freeze it for extra product life.
Do you have any other hacks on how to reduce waste when preparing meals?
I always try and cook in large bathes and freeze (I think the freezer is our biggest friend for helping with waste) and buy quick frozen vegetables. Also, if you are already turning the oven on, why not prepare and cook more meals to go into the freezer, you are saving oven energy and gaining more meals. Batch cooking is my favourite thing to do and having lots of dishes in the freezer is perfect for those rushed evenings where the kids want a quick dinner. Lastly, try and buy seasonal and as locally sourced as possible, it's better for our environment and economy.
And finally, what's coming up next for you?
Every week is different with the company, with many exciting brands to work with along with some great recipe creation opportunities. I would also like to continue with a second book to follow up on my 'The 7 Day Basket' publication. 
In the meantime, why not have a look at some of the other recipe creations we have worked with Ian on already below:
Triple Cheese, Creamy Chicken, Spinach and Herb Penne Pasta Bake
Spicy Tomato & Red Pepper Soup
---