ZENB Fusilli with Quick Turkey Bolognese
SERVES 4
PREP TIME 5 minutes
COOK TIME 25 minutes
TOTAL TIME 30 minutes
NUTRITIONAL FACTS
Serving Size: 589.57g

Calories: 600
| | |
| --- | --- |
| Total Fat | 14g |
| Saturated Fat | 3.8g |
| Salt | 2.7mg |
| Carbohydrates | 58g |
| Fibre | 15g |
| Protein | 46g |
* Nutrition information is estimated based on the ingredients and cooking instructions as described in each recipe and is intended to be used for informational purposes only. Please note that nutrition details may vary based on methods of preparation, origin and freshness of ingredients used.
FEATURED IN RECIPE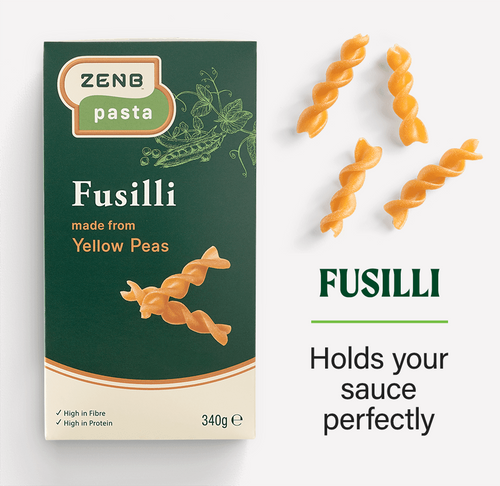 Fusilli Pasta
This ZENB fusilli Pasta dish is a delicious and simple way to get in a good source of protein. Traditional Bolognese takes much longer to make, but this recipe helps you maximize the flavour in just 30 minutes.
INGREDIENTS
1 box (340g) ZENB Fusilli Pasta made from 100% Yellow Peas, uncooked
4 slices bacon, finely chopped
1 pound ground turkey (93% lean)
1/2 teaspoon each salt & ground black pepper
1 small onion, finely chopped
4 cloves garlic, thinly sliced
120ml red wine
125ml low sodium chicken stock
793g crushed San Marzano tomatoes
22.5g grated Parmigiano-Reggiano cheese
1 teaspoon balsamic vinegar
INSTRUCTIONS
1.
Place bacon in large pot on medium-high heat. Cook 4-6 min. until browned and crisp. Add turkey, salt & pepper to pot. Cook 5-6 min., while breaking up the meat with a wooden spoon. Add onion and garlic; cook 3-4 min., stirring frequently until translucent. Add wine and stock; cook 3-4 min. or until liquid is reduced by half.
2.
Reduce heat to medium. Stir in tomatoes; simmer 10 min., or until slightly thickened. Meanwhile, cook ZENB Pasta as directed on package. Drain.
3.
Stir pasta, cheese and vinegar into sauce. Mix gently until cheese is melted and well combined.
Tasty Tips
Stir in 2 tablespoons of butter before serving for extra richness. Serve with additional grated Parmesan cheese.
Traditional Bolognese sauce takes hours to prepare. This version maximizes flavor in 30 minutes.