Coconut & Pumpkin Ramen with ZENB Noodles
SERVES 4
PREP TIME 10 minutes
COOK TIME 40 minutes
TOTAL TIME 50 minutes
FEATURED IN RECIPE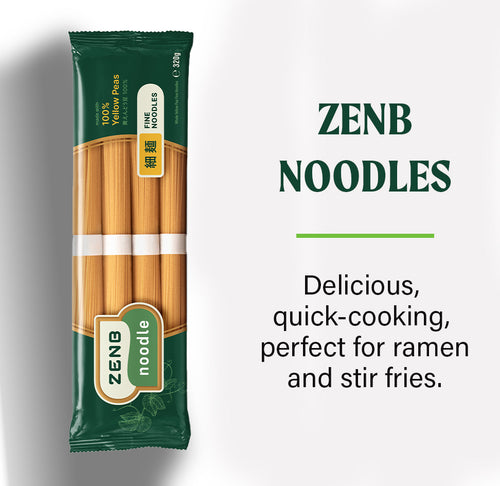 Noodles
Indulge in a bowl of roasted sweet & sticky pumpkin with pak choi which tops a Thai green curry and coconut broth. Adding Zenb noodles brings a unique texture that's both filling and nutritious. The broth has the perfect balance of rich & creamy nutty tones yet bringing a warm spice & citrus note from the Thai green curry paste.
This dish hits all the right notes, and is perfect for those colder days.
INGREDIENTS
3 x 80g ZENB Noodles
4 tbsp soy sauce
3 tbsp agave syrup or honey
2 limes - 1 juiced, 1 to serve
1kg pumpkin - peeled, deseeded and cut into 2cm cubes
1 tbsp sesame oil
2 shallots - sliced
4 tbsp thai green curry paste
400g tin coconut milk
500ml vegetable stock
100g pak choi
1 spring onion - sliced
Chopped peanuts
INSTRUCTIONS
1.
Bring a pan of water to the boil and then add the noodles. Boil for 4 minutes. Drain and rinse under cold water to stop the cooking process. Set aside to add to the ramen later.
2.
In a small bowl - add soy sauce, agave syrup & juice of a lime to make the marinade for the roasted pumpkin.
3.
Peel, deseed and chop the pumpkin up into 2cm cubes and add to a baking tray with the soy sauce marinade - bake in a preheated oven for 30 minutes at 200°C.
4.
In a saucepan - add sesame oil & shallots and fry for 3 minutes.
5.
Add the thai green curry paste, coconut milk, vegetable stock and pak choi - bring to the boil and simmer for 2 minutes.
6.
Serve the noodles into bowls, add the broth with the pak choi then top with roasted pumpkin, spring onion, chopped peanuts & a lime wedge.
Tasty Tips
We used pumpkin but if you'd prefer to use another vegetable it can be substituted e.g with butternut squash, sweet potato, carrots, mushrooms and even tofu.