Herby Fish Pie with ZENB Veggie Mash
SERVES 4
PREP TIME 10 minutes
COOK TIME 40 minutes
TOTAL TIME 50 minutes
FEATURED IN RECIPE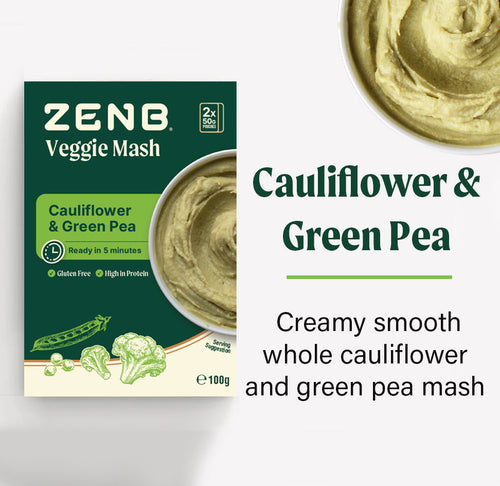 Cauliflower & Green Pea Veggie Mash
Indulge in the delicious ZENB Cauliflower & Green Pea veggie mash mixed with parsley and a lemony zesty goodness tops the most delicious fish filling including hake, salmon, smoked haddock, and king prawns which are a perfect complement to the herby mash.
Every bite is brimming with a burst of vibrant flavours and textures. The watercress adds a peppery bite to the dish, while the peas add a pop of sweetness. The combination of the veggies and seafood creates a balanced and nutritious meal.
This dish is easy to prepare and is sure to impress for a dinner party or weeknight meal.
INGREDIENTS
2 x 50g pouches of ZENB mash
480ml of milk (dairy or plant) for the mash & 450ml milk for the fish mix
2 tbsp of chopped fresh parsley
1 lemon - zest and wedges
50g Mature cheddar - grated
2 bay leaves
2 spring onions - finely chopped
3 tbsp corn flour
1 tsp horseradish
2 tbsp chopped fresh dill
100g hake - cut into inch pieces
100g smoked haddock - cut into inch pieces
300g salmon - cut into inch pieces
150g king prawns
100g frozen peas
80g Watercress
Salt & Pepper to season
INSTRUCTIONS
1.
Preheat the oven at 200°C
2.
To a saucepan, add the mash pouch flour mix, milk, salt & pepper.
Whisk until smooth, bring to the boil and cook for 30 seconds until a smooth and thick mash. Remove from the heat, add parsley, lemon zest and mix together then set aside.
3.
In a separate saucepan on a medium heat add the milk, bay leaves & spring onion. In a small bowl add the corn flour with 3 tbsp of cold water and stir it together into a paste and add to the milk mix with salt and pepper to taste.
Simmer until thickened and discard the bay leaves
4.
To the thickened sauce add the horseradish, dill, hake, smoked haddock, salmon & king prawns and mix together with the herby ZENB mash add the grated cheese and mix together
5.
Place the fish mix into an overproof dish, using a fork spread the mash mixture over the top of the fish filling.
6.
Place in the preheated oven at 200°C for 30 minutes until golden and crispy.
Serve with watercress, peas and a lemon wedge.
Tasty Tips
To get a good mix of different fish at smaller quantities, we bought a pre made fish pie mix and topped it up with extra salmon and king prawns.