Veggie Confetti Stir-Fry
SERVES 6
PREP TIME 15 minutes
COOK TIME 5 minutes
TOTAL TIME 20 minutes
FEATURED IN RECIPE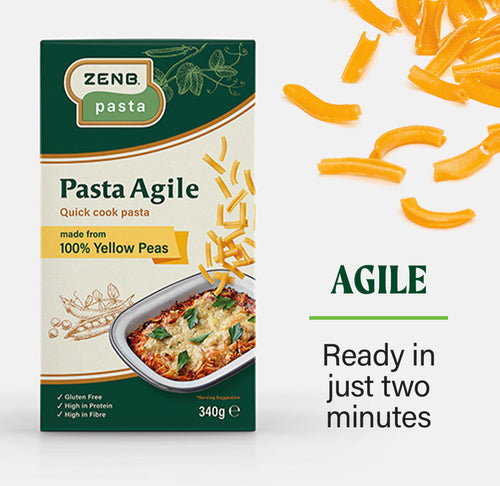 Quick Cook Pasta Agile
Every day can be a day for confetti! Try Veggie Confetti Stir-Fry skillet for a colourful vegetable extravaganza with ZENB Pasta Agile. This dish is a good source of fibre and low in fat.
INGREDIENTS
1 tablespoon vegetable oil
2 cups shredded carrots
250g mini sweet peppers, finely chopped
2 cups water
2 teaspoons toasted sesame oil
1 tablespoon finely chopped ginger
1 large clove garlic, minced
1-1/2 teaspoons sea salt
1 box ZENB Pasta Agile
3 green onions, thinly sliced
INSTRUCTIONS
1.
Heat oil in large nonstick skillet on medium-high heat until shimmering. Cook vegetables 3-4 minutes until crisp-tender.
2.
Combine water, sesame oil, ginger, garlic and salt in small bowl.
3.
Stir water mixture and ZENB Pasta Agile into skillet. Cook 2 minutes, stirring frequently, until pasta is tender and most liquid is evaporated.
4.
Remove from heat; stir in green onions.
Tasty Tips
For a spicy kick, serve this dish with Asian chili garlic sauce or chili oil.
Save some time and take advantage of pre-cut veggies in the produce department. Chopped zucchini, yellow squash, red onion, celery or tri-color coleslaw mix make great substitutes for the carrots and peppers in this dish.