Tomato and Balsamic Sausages with Cauliflower and Green Pea ZENB Veggie Mash
SERVES 4
PREP TIME 10 minutes
COOK TIME 25 minutes
TOTAL TIME 35 minutes
FEATURED IN RECIPE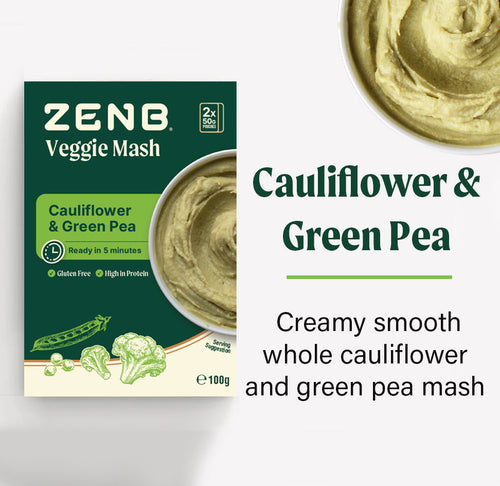 Cauliflower & Green Pea Veggie Mash
Put sausage and mash back on the menu and level up with this delicious, and may we add nutritious, sausage and mash recipe. Combine the sweet flavours of roasted tomatoes and balsamic vinegar with our high protein, whole veg ZENB mash. We went for our light and creamy ZENB Cauliflower and Green pea mash, but it would also work perfectly with our Carrot and Lentil veggie mash too. Whoever said simple is boring!
INGREDIENTS
2 x 50g pouches ZENB Cauliflower and Green pea veggie mash
240ml milk of your choice
2tbsp olive oil
8 vegetarian sausages (we used Quorn)
350g cherry tomatoes, halved
1 large red onion, sliced into wedges
3 tbsp balsamic vinegar
25g flat leaf parsley, roughly chopped
INSTRUCTIONS
1.
Place the milk in a small saucepan and add the pouch contents and whisk well. Bring to the boil stirring regularly for 30 seconds until thickened. Remove from the heat.
2.
Preheat the oven to 200C/fan 180C/gas 6. Place either an ovenproof roasting tin or frying pan on the hob and pour in the oil. Add the sausages and cook for just a few minutes until browned all over. Remove from the heat.
3.
Stir the halved cherry tomatoes into the pan or tin with the sausages and add the red onion and balsamic vinegar, a good pinch of salt and ground black pepper and mix everything together well.
4.
Place in the oven and roast for 25- 30 minutes until the tomatoes and onions have softened and are jammy and you have a lovely sticky sauce. Sprinkle over most of the flat leaf parsley saving some for serving.
5.
Divide the mash between serving bowls and then top with the sausages and spoon over the tomatoes and onions and the pan juices. Sprinkle with extra parsley to serve.
Tasty Tips
This recipe will work with meat sausages as well.