Spiced Duck Winter Pasta
SERVES 2
PREP TIME 20 minutes
COOK TIME 30 minutes
TOTAL TIME 50 minutes
FEATURED IN RECIPE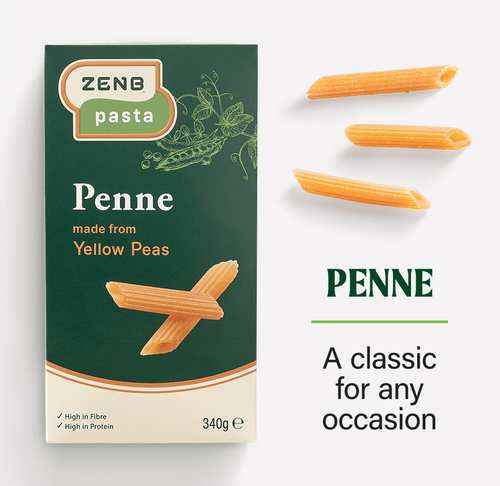 Penne Pasta
Spice things up with this perfect warming winter recipe using our delicious Yellow Pea Penne Pasta. Created by @modernfoodstories
INGREDIENTS
170g ZENB Penne
2 duck breasts, skin on
Salt and pepper to taste
2 tbsp olive oil or butter, plus more olive oil to serve
2 cloves garlic, minced
3/4 tbsp ginger, grated
1 tbsp thyme leaves
1/2 tsp ground coriander
1/2 tsp ground cumin
Pinch paprika
1/4 cup chicken stock
1 large orange or 2 clementines, juice and zest
1 tsp - tbsp runny honey or maple to taste (optional)
50g cavolo nero or kale, chopped
1 tbsp sesame seeds
INSTRUCTIONS
1.
Preheat oven to 180C / 160 fan. Pat the duck breasts with kitchen paper. Score the skin with 2 - 3 slits with a sharp knife. Season with salt and pepper. Careful not to cut into the meat, just score the skin.
2.
Heat a non-stick frying pan. Cook the duck breasts, skin side down on a medium heat for 5 - 6 minutes until the skin is golden. Turn over and fry for 1 minute. Transfer to a baking tray and bake in the oven for 15 - 18 minutes or until cooked to you liking. Place covered on warm plate to rest whilst you make the pasta and sauce.
3.
Meanwhile, boil pasta as per packet instructions. Drain. Return the pan that you cooked the duck in back to the heat (keeping about 1 tbsp of fat). Fry the garlic, ginger and thyme for 1 min. Add 1 tbsp of olive oil or butter, the stock, orange zest and juice, spices, optional honey or maple and a pinch of salt and pepper. Cook to reduce down for about 2 minutes, or until the sauce thickens a bit.
4.
Melt 1 tbsp of butter of olive oil in a clean pan, season the greens with a pinch of salt and pepper and cook until slightly wilted, 1 - 2 minutes.
5.
Toss greens and 2/3 sauce through the pasta. Top with duck slices and rest of sauce. Scatter over sesame seeds and finish with a good drizzle of olive oil and pepper.
Tasty Tips
Finish with a good drizzle of olive oil and pepper.