Spaghetti con le cozze
SERVES 2
PREP TIME 5 minutes
COOK TIME 10 minutes
TOTAL TIME 15 minutes
FEATURED IN RECIPE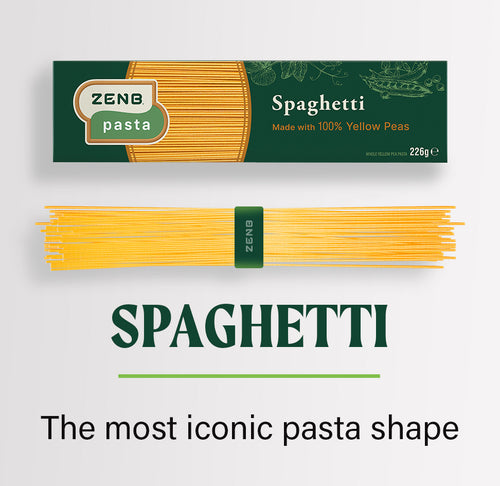 Spaghetti
A much-loved Italian pasta recipe that pairs classic flavours of mussels with a simple garlic, parsley, white wine and tomato sauce. Twist it all round your fork with some of ZENB's new Yellow Pea Spaghetti and serve with a nice glass of red for the ultimate summer al fresco pasta.
Brought to you by: @modernfoodstories
INGREDIENTS
200g ZENB Spaghetti
2- 3 tbsp extra virgin olive oil
2 cloves of garlic, peeled + thinly sliced
1 fresh chilli, finely chopped
150g cherry tomatoes, halved
1kg mussels, washed and debearded
1/4 cup white wine
Good handful fresh parsley, chopped
Flaked sea salt + black pepper
INSTRUCTIONS
1.
Bring a large pan of salted water to the boil. Add ZENB Spaghetti and cook for about 8 minutes on a medium heat until al dente.
2.
Meanwhile, add 1 tbsp of olive oil to a large dutch oven. Add garlic, chilli and tomatoes. Saute for 1 - 2 minutes until slightly soft. The garlic should not brown.
3.
Add the mussels and white wine. Add a lid and cook for 4 - 5 minutes or until the mussels open. Stirring a couple of times. Discard any closed mussels.
4.
Drain and rinse the pasta and toss with a little olive oil if you like. Toss pasta through mussels. Stir through fresh parsley and season to taste. Allow to warm through for 1 - 2 minutes and serve with 1 tbsp of olive oil.
Tasty Tips
Make sure your mussels are fresh. You can also use frozen mussels and allow them to defrost in the fridge overnight.
Discard any closed mussels that don't open after cooking. These are dead.
Use good quality fresh tomatoes for the best flavour and fresh parsley.
If you don't like mussels, you can also make this recipe using prawns or a seafood mix. Cooking times may vary slightly.