Pumpkin, Sage & Pecan Pasta Agile
SERVES 6
PREP TIME 10 minutes
COOK TIME 5 minutes
TOTAL TIME 15 minutes
FEATURED IN RECIPE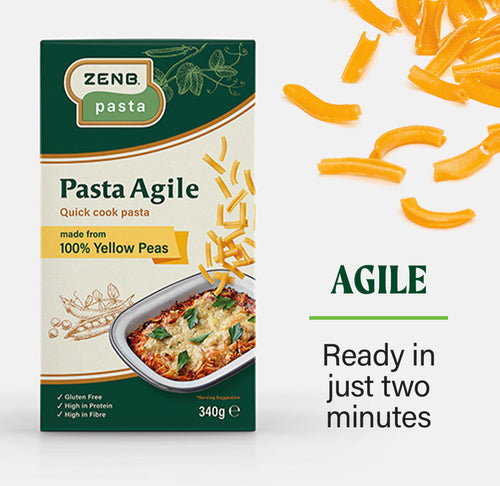 Quick Cook Pasta Agile
Pumpkin is an iconic autumn food staple. ZENB Pasta Agile with the delicate balance of sweet pumpkin and earthy sage creates an easy fall inspired dish for any day of the year! It is also a good source of protein and a good source of fibre.
INGREDIENTS
1 tablespoon olive oil
8 sage leaves
1 garlic clove
1 box (12 ounces) ZENB Pasta Agile
1 cup pumpkin puree
1 3/4 cups low-sodium vegetable broth
3 tablespoons finely grated Parmesan cheese, divided
2 tablespoons toasted chopped pecans
INSTRUCTIONS
1.
Heat oil in a large skillet on medium heat. Add sage; cook 1 minute, until crisp. Transfer sage leaves to clean plate.
2.
Add garlic to same skillet. Cook 30 seconds or until fragrant. Stir in ZENB Agile, pumpkin puree, broth and 2 tablespoons Parmesan. Cook covered 2 minutes, or until pasta is tender. Remove pan from heat; stir gently.
3.
Top with crispy sage, remaining Parmesan and pecans. Serve immediately.
Tasty Tips
Substitute butternut squash puree for the pumpkin for a sweeter and smoother sauce.