Pesto Pasta Salad
SERVES 4
PREP TIME 5 minutes
COOK TIME 10 minutes
TOTAL TIME 15 minutes
FEATURED IN RECIPE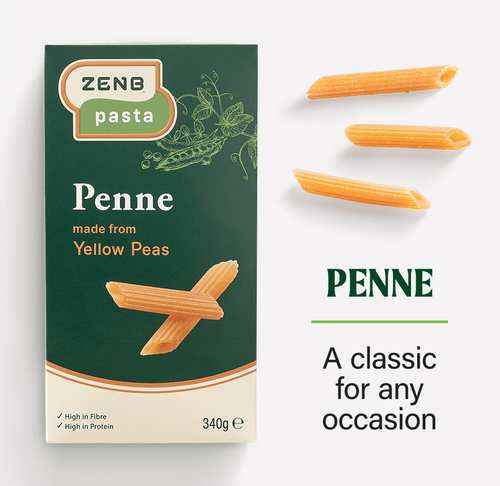 Penne Pasta
ZENB Penne combined with fresh pesto, rainbow cherry tomatoes and mozzarella. Perfect for summer days and can be served with fried salmon or grilled chicken.
Brought to you by: @anna_janecka
INGREDIENTS
1 pack of ZENB Penne
½ cup of fresh pesto
200g of mozzarella mini balls
150g of rainbow tomatoes
¼ cup of black olives cut in half
INSTRUCTIONS
1.
Bring a pot of water to a boil then generously salt the water and add the Penne to the pot. Cook al dente.
2.
Once the pasta is done cooking, pour it into a colander and rinse with cold water to stop the pasta from cooking.
3.
Now place the pasta into a large bowl and stir in the pesto, mini mozzarella, olives and sliced cherry tomatoes.
4.
Stir together.
Tasty Tips
Since this pasta will be mixed with tomatoes and mozzarella, cook al dente so it's not mushy and doesn't break apart when combined.
To avoid tearing the pasta or squishing the tomatoes, mix everything together gently.
Tell me more
How is Pesto Pasta Salad served?
This dish is tastiest when served chilled because of the cheese. Refrigerate for 30 minutes or so before serving.
What are suitable alternatives if you can't find some ingredients?
You can substitute mini mozzarella with big ball cut in small pieces.
When to best enjoy Pesto Pasta Salad?
It can be served as a lunch or side dish for dinner or Summer BBQ
How to store Pesto Pasta Salad?
Store this Pesto Pasta Salad in an airtight container in the refrigerator for up to 4 days. Keep in mind that the longer it sits, the more juice from the tomatoes will leak out, so try to eat it soon after preparing.
How long does Pesto Pasta Salad last in the fridge?
Up to 4 days.
Can Pesto Pasta Salad be frozen?
While you can freeze this pasta salad, the tomatoes are best added fresh since they become mushy when thawed. Freezing the pasta, pesto, and mozzarella can be done in an airtight container for up to 3 months.