Gizzi Erskine's Chicken and Burrata Parmigiana
SERVES 2
PREP TIME 10 minutes
COOK TIME 20 minutes
TOTAL TIME 30 minutes
FEATURED IN RECIPE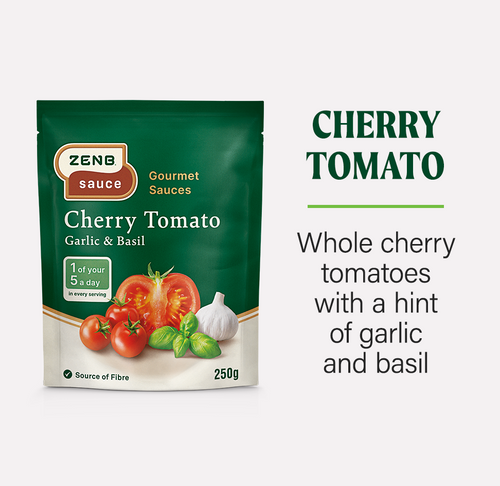 Cherry Tomato Gourmet Pasta Sauce
A good ready-made marinara sauce is not easy to come by. While it may be one of the original cook-at-home sauces, they all seem to be stunted in their development from back in the 90s. The ZENB Gourmet Sauces are bang up to date with great quality ingredients, where they have been slow cooked down and reduced into a rich and delicious sauce that gives the most intense flavours from the vegetables used. They're wonderful with pasta, but I decided to make a chicken parmigiana with another modern twist (with Burrata). It's the perfect corner cut, where food tastes just as good home-made.
INGREDIENTS
250g ZENB Cherry Tomato Garlic & Basil Gourmet Sauce
2 x chicken breast fillets
110g plain flour
2 x egg
Oil for frying
1 x burrata
30g parmesan
120g breadcrumbs
Few sprigs of basil
Rocket or watercress to serve
INSTRUCTIONS
1.
Lay three plates out; one with flour (and then season), two with the eggs (whisk and then season) and one with breadcrumbs (also seasoned).
2.
Flatten your chicken breasts by placing between two sheets of cling film and bashing with a rolling pin (or another heavy object…).
3.
Once flattened, panne your chicken breast and then shallow fry in oil, on both sides, until golden and cooked through.
4.
Place in a baking tray and cover with ZENB Cherry Tomato Garlic & Basil Gourmet Sauce over one side. Place your burrata on top, followed by two basil leaves, and pop in the over for 8-10 minutes, until the cheese is bubbling and starting to go golden, at 250c.
5.
Once cooked, serve with rocket or watercress and a wedge of lemon.
Tasty Tips
The key to nailing this dish is to tenderise the chicken so it's really thin and crisps to perfection.
Also making sure your pan and oven are hot will give a professional finish to your dish. Think crispy breadcrumbs and oozy Burrata.