Citrus Chicken with Pesto & ZENB Fusilli
SERVES 4
PREP TIME 10 minutes
COOK TIME 13 minutes
TOTAL TIME 23 minutes
NUTRITIONAL FACTS
Serving Size: 435g

Calories: 746
| | |
| --- | --- |
| Total Fat | 36g |
| Saturated Fat | 5.5g |
| Salt | 2.1mg |
| Carbohydrates | 51g |
| Fibre | 13g |
| Protein | 45.1g |
* Nutrition information is estimated based on the ingredients and cooking instructions as described in each recipe and is intended to be used for informational purposes only. Please note that nutrition details may vary based on methods of preparation, origin and freshness of ingredients used.
FEATURED IN RECIPE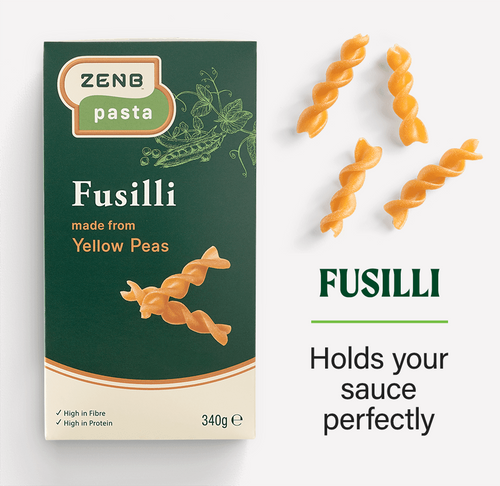 Fusilli Pasta
While chicken and pesto is a classic pasta combination, this ZENB Fusilli Pasta recipe features a citrus flavor for a navel orange that you are sure to love. While you enjoy this dish you will also be enjoying a good source of protein and a good source of fibre, while staying low in cholesterol.
Recipe by Chef Erling Wu-Bower
INGREDIENTS
1 box (340g) ZENB Fusilli Pasta made from 100% Yellow Peas, uncooked
4 thin-sliced boneless chicken breasts
1/2 teaspoon each salt & ground black pepper
1 small lemon, zested, juiced
1 navel orange, zested, peeled, thinly sliced, quartered
1 tablespoon olive oil
2 cloves garlic, smashed
175ml chicken stock
cracked black pepper
95g Pesto
INSTRUCTIONS
1.
Cook ZENB Pasta as directed on package. Drain.
2.
Meanwhile, season chicken with salt, pepper and citrus zest. Heat oil in large deep skillet on medium-high heat until shimmering. Cook chicken 2 min. on each side, or until golden brown and cooked through. Transfer to clean plate; keep warm.
3.
Add garlic and stock to skillet. Bring mixture to a boil, scraping up browned bits from bottom of pan. Reduce heat to medium; stir in pasta and lemon juice. Mix gently 1-2 min. until heated through. Remove pan from heat; stir in pesto. Serve pasta and chicken garnished with quartered orange slices and cracked black pepper.
Tasty Tips
Thin-sliced boneless chicken breasts are also sometimes labeled as "cutlets" in the meat department. Thin or pounded chicken breasts brown quickly and evenly.
Substitute raw colossal shrimp (13/15 count), peeled and deveined, for the chicken.