Carrot and Lentil Falafel Power Balls
SERVES 16
PREP TIME 15 minutes
COOK TIME 12 minutes
TOTAL TIME 27 minutes
FEATURED IN RECIPE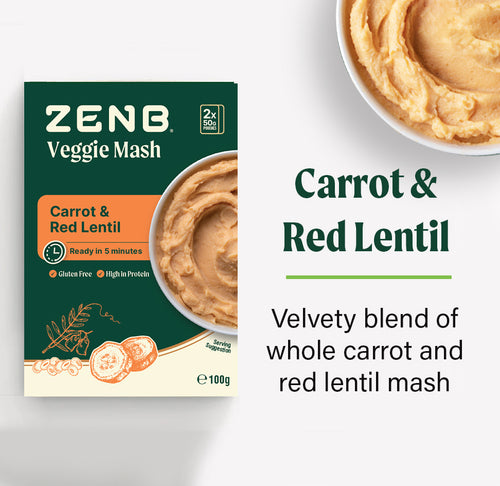 Carrot and Red Lentil Veggie Mash
These power balls are the perfect protein boost snack. This recipe makes 16 balls, so is great for prepping your healthy snacks for the week, popping in your gym bag, or to fight those mid afternoon cravings for chocolate!
Our sweet ZENB Carrot and Lentil veggie mash is a perfect a base for a protein ball, before adding chickpeas, pul biber (a traditional Turkish condiment of salted and oiled flakes of dried red pepper) for a spicy kick, cumin seeds and tahini and lots of flat leaf parsley.
These protein balls also make a great light dinner, serve on flatbreads with a crunchy coleslaw and simple tahini dressing.
INGREDIENTS
1 x 50g pouch Zenb Carrot and Lentil veggie mash
200ml milk of your choice
400g can chickpeas, drained
25g flat leaf parsley
1 clove garlic
1tsp cumin seeds
1tsp pul biber
3tbsp tahini
1/2 small red cabbage, thinly sliced
2 carrots, grated
Juice 1 lemon
2tbsp extra virgin olive oil
2tbsp Greek Yoghurt
2tbsp vegetable oil
4 Flatbreads
INSTRUCTIONS
1.
Place the milk in a small saucepan and add the pouch contents and whisk well. Bring to the boil stirring regularly for 30 seconds until thickened. Remove from the heat and leave to cool.
2.
Place the chickpeas in a food processor with half the flat leaf parsley, garlic, cumin seeds, pul biber, half the tahini and a good pinch of salt. Blitz until coarsely chopped and then stir with the cooled mash.
3.
Shape into small bite sized balls, pressing down gently to make a disc shape - will make about 16.
4.
Make a quick slaw by mixing the red cabbage with the grated carrot. Roughly chop the remainder of the flat leaf parsley and add to the bowl with a pinch of salt, half of the lemon juice and extra virgin olive oil. Toss everything together well.
5.
To make the tahini sauce simply mix the remining tahini with the remaining lemon juice, Greek yoghurt and 2 tablespoons of water.
6.
Heat the oil in a frying pan and cook the balls for 2- 3 minutes each side until golden. Place the flatbreads on serving plates and top with the slaw. Divide the balls between the flatbreads and then drizzle over the Tahini dressing to serve.
Tasty Tips
Cant find pul biber at the supermarket? No worries you can substitute with ¼ tsp chilli flakes mixed with ¼ tsp paprika.