Bourbon, slow cooked pulled beef brisket Spaghetti and rich tomato ragu
SERVES 4
PREP TIME 20 minutes
COOK TIME 2.5 hours
TOTAL TIME 3 hours
FEATURED IN RECIPE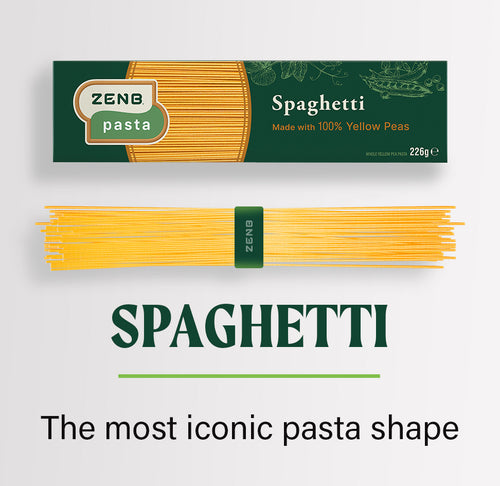 Spaghetti
You have to try this rich & spicy, slow cooked, tomato and red pepper sauce with a low and slow, pulled beef brisket, all stirred through the NEW incredible Zenb 100% Yellow Pea Spaghetti!
This recipe is up there as one of our favourites, beautifully tender meat with a luxurious ragu sauce.
INGREDIENTS
1 Pack ZENB Spaghetti
1tbsp olive oil
600g Beef brisket cut into to chunks
1 large chopped onion
5 large fresh chopped tomatoes
1 small red chilli
2 large red peppers chopped
Salt & pepper
4 cloves garlic purée
3tsp balsamic vinegar
100ml bourbon
6 sun-dried tomatoes
100ml red wine
500ml beef stock
1 400g tin chopped tomatoes
2tsp sea salt
15 leaves of fresh basil
Parmesan cheese and fresh basil to serve
INSTRUCTIONS
1.
Add the oil to a deep pan on a medium high heat, add the onion, fresh chopped tomatoes, peppers and the beef, cook for a few minutes turning the beef.
2.
Add the chilli, seasoning, garlic, balsamic vinegar, bourbon, sundried tomatoes, red wine, beef stock and chopped tomatoes. Place in a low part of the oven at 180c for 2 hours, stirring every 20mins.
3.
Once the beef is soft, pull the meat out of the sauce and shred with a fork. Add the basil to the sauce and Blitz in the pan and once smooth, re add the pulled beef.
4.
Add the salt to a pan of boiling water and add the ZENB Spaghetti, cook for 5 – 6 mins to retain a nice bite.
5.
Stir the pasta through a generous amount of the beef and sauce, top with parmesan and fresh basil.
Tasty Tips
Try doubling up on the ingredients for this one and cooking extra for the freezer and saving on oven time.