ZENB Matcha, Miso and Hot Raspberry pancakes
This pancake day we are celebrating ancient wisdom and modern ideas, bringing some of our hero ingredients to the table in this scrummy pancake stack.

These Matcha pancakes are inspired by ZENB's Japanese roots. Using Matcha tea, which is a finely ground bright green tea traditionally drunk and celebrated in Japan for its energising nature, with miso and sweet raspberries topped with our ZENB Beetroot Bites.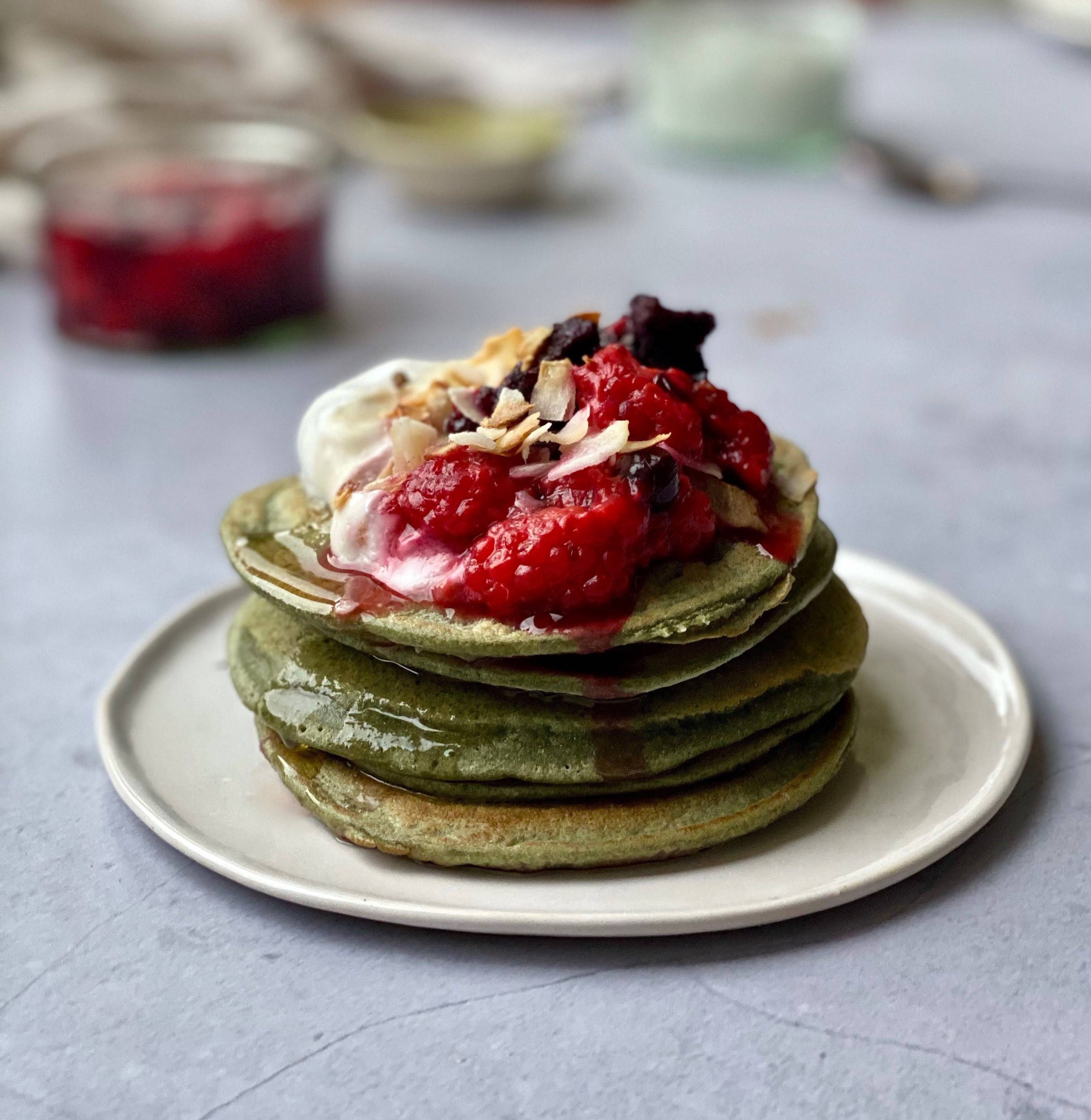 Hot raspberries

100g frozen raspberries
1 tbsp water
1 tbsp maple syrup
Pancake batter
50g buckwheat flour
50g brown rice flour
50g tapioca flour
(or 150g of a gluten free flour blend)
100ml water
75ml nut, seed or oat milk
1 tbsp matcha tea powder
1 tbsp coconut sugar, or any sugar
1 tbsp melted coconut oil
1 tsp white miso, or ¼ tsp salt
½ tsp bicarbonate of soda
½ tsp apple cider vinegar
Toppings
1 packet ZENB Beetroot Bites
Toasted coconut flakes
Plant based yoghurt, here we used coconut
Honey or maple syrup
1. Heat a small saucepan on a low heat and add the raspberries, maple syrup and water. Simmer this mix to make a quick raspberry compote while you make the pancakes. Keep an eye on it and when almost all of the liquid is reduced turn off the heat.
2. Whisk the flours, water and plant based milk together to form a smooth batter, making sure there are no lumps.
3. Add the matcha tea powder along with the remaining ingredients and mix again, making sure everything is very well combined.
4. Heat a large frying pan on a medium heat and add a little coconut oil to the pan making sure the surface is coated. Then ladle the pancakes one by one into the pan, with enough room so they don't stick together, 3 pancakes in a medium sized saucepan works well.
5. Cook the pancakes for two minutes on the first side and then carefully flip them one by one and cook each pancake for a further minute on the other side.
To serve, stack the pancakes into stacks of three (or six if you are hungry!) then top them with your chosen plant based yoghurt, a spoonful of the hot raspberries, a sprinkle of coconut, crumbled ZENB Veggie Bites and a drizzle of extra sweetener.
Enjoy these pancakes hot, and have a delicious pancake day!
NOTE
If you are making lots of pancakes at one time preheat your oven to 120°C to keep the pancakes warm while you cook the rest. You can also leave out the sugar and serve these pancakes savoury topped with fresh avocado, kimchi and salad.
---