Roasted Corn Pasta Salad
SERVES 3
PREP TIME 5 minutes
COOK TIME 30 minutes
TOTAL TIME 35 minutes
FEATURED IN RECIPE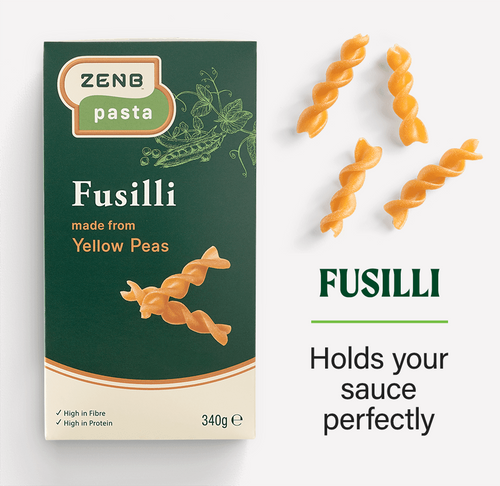 Fusilli Pasta
Just in time for Summer! This roasted corn pasta salad is the perfect accompaniment to BBQs and is substantial enough to be eaten as a main dish in its own right. Loaded with fresh corn, creamy avocado and citrus, it is packed full of summer flavours and is a quick and easy to throw together salad with minimal ingredients.
INGREDIENTS
• 120g ZENB yellow pea fusilli
• 2 Corn on the cob
• 2 Garlic cloves, peeled
• 1 Red onion, thinly sliced
• 1/3 Cucumber, diced
• 250g Cherry tomatoes, halved
• Small handful of fresh coriander, finely chopped
• 1 Avocado, diced
• 1 Lemon, juiced and zest from half
• ½ tsp Chilli flakes
• Olive oil
• Salt and pepper
INSTRUCTIONS
1.
Pre-heat an oven to 190 degrees Celsius.
2.
Add the corn on the cob to a baking tray and roast in the oven for 30 minutes.
3.
On a separate baking tray add the red onion and garlic cloves with ½ tsp of olive oil. Coat in the oil and add to the oven after the corn has been cooking for 15 minutes.
4.
Whilst the vegetables are roasting, bring a saucepan of water to the boil. Add in the pasta and cook for 10 minutes.
5.
Drain the pasta and rinse under cold water to cool.
6.
Remove the corn, onion and garlic from the oven. Using a sharp knife carefully remove the corn kernels from the husk by running the knife down the length of the cob.
7.
Add to a large bowl the pasta, corn, onion, cucumber, cherry tomatoes, coriander and avocado. Mix together to combine.
8.
Mince the roasted garlic cloves and make a dressing by whisking together 2 tbsp olive oil, lemon juice, lemon zest, chilli flakes and salt and pepper to taste. Pour over the salad, mix together and serve.