ZENB Penne with Rapini, Toasted Garlic & Chillies
SERVES 4
PREP TIME 10 minutes
COOK TIME 13 minutes
TOTAL TIME 23 minutes
NUTRITIONAL FACTS
Serving Size: 531g

Calories: 431
| | |
| --- | --- |
| Total Fat | 9.4g |
| Saturated Fat | 2.1g |
| Salt | 1.5mg |
| Carbohydrates | 47g |
| Fibre | 17g |
| Protein | 27g |
| Vitamin A | 630.9mcg |
* Nutrition information is estimated based on the ingredients and cooking instructions as described in each recipe and is intended to be used for informational purposes only. Please note that nutrition details may vary based on methods of preparation, origin and freshness of ingredients used.
FEATURED IN RECIPE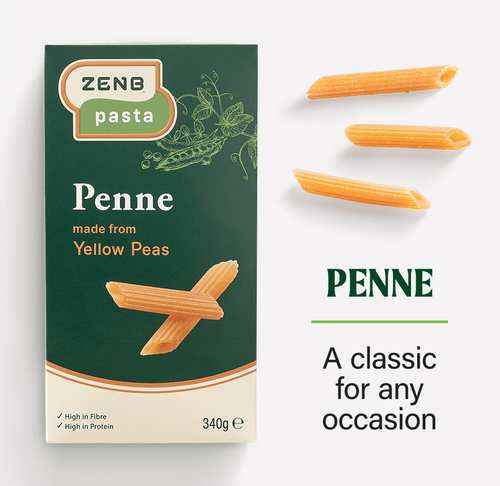 Penne Pasta
Featuring Rapini, a relative of broccoli, this meal delivers a delicious dose of vegetables to enjoy with you ZENB Penne Pasta. Not only will you enjoy the taste, you'll also love that this dish a good source of fibre and a good source of vitamin A.
Recipe by Chef Erling Wu-Bower
INGREDIENTS
1box (340g) ZENB Penne Pasta made from 100% Yellow Peas, uncooked
1 tablespoon olive oil
4 cloves garlic, thinly sliced
½ teaspoon crushed red pepper
2 bunches rapini washed, trimmed, cut into 2-inch pieces
½ teaspoon salt
2 small lemons, juiced
41g grated Parmesan cheese, divided
INSTRUCTIONS
1.
Cook pasta as directed on package. Reserve 240ml pasta cooking water; drain.
2.
Meanwhile, heat oil, garlic and red pepper in large pot on medium heat. Cook, 2-3 min. or until edges of garlic begin to brown. Add rapini, reserved pasta water and salt to pot; toss gently. Cook 5-6 min., stirring occasionally, until bright green and tender-crisp. Stir in pasta; cook 1-2 min. until heated through.
3.
Remove pan from heat; add lemon juice and 1/4 of the cheese. Mix gently until well combined. Serve sprinkled with remaining cheese.
Tasty Tips
Rapini, a relative of common broccoli, is also sold under the name broccoli rabe. It is a hearty green with thick edible stems and a pleasantly bitter bite. For extra richness, drizzle each serving with additional olive oil before serving.