ZENB Penne, Peas & Plants
SERVES 2
PREP TIME 15 minutes
COOK TIME 10 minutes
TOTAL TIME 25 minutes
NUTRITIONAL FACTS
Serving Size: 526.44g

Calories: 470
| | |
| --- | --- |
| Total Fat | 11.9g |
| Saturated Fat | 1.6g |
| Salt | 1.2mg |
| Carbohydrates | 55g |
| Fibre | 16g |
| Protein | 22g |
* Nutrition information is estimated based on the ingredients and cooking instructions as described in each recipe and is intended to be used for informational purposes only. Please note that nutrition details may vary based on methods of preparation, origin and freshness of ingredients used.
FEATURED IN RECIPE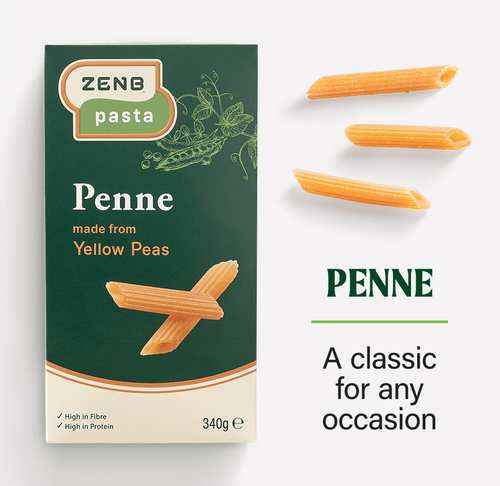 Penne Pasta
Enjoy ZENB Penne Pasta in a gluten free and vegan recipe that uses peas and nuts to deliver a delicious dish. A source of protein and fibre, this ZENB Pasta recipe is sure to be a new go-to on your kitchen dinner menu.
Recipe by Lauren Lovatt
INGREDIENTS
170g ZENB Penne Pasta made from 100% Yellow Peas, uncooked
1 tablespoon olive oil
1 small onion, cut into thin slivers
1 clove garlic, thinly sliced
250ml ow sodium vegetable stock
1/4 teaspoon each salt & ground black pepper
134g frozen peas
1 small lemon, zested, juiced
2 Brazil nuts, finely grated
INSTRUCTIONS
1.
Cook ZENB Pasta as directed on package. Reserve 125ml pasta cooking water; drain.
2.
Meanwhile, heat oil in large skillet on medium-high heat. Add onion; cook 5-7 min. or until translucent and edges begin to brown. Add garlic; stir constantly 30 sec or until fragrant. Stir in pasta, reserved pasta water, stock, salt & pepper. Cook 3-4 min. or until liquid is reduced by half. Add peas; cook 1-2 min. until thawed.
3.
Remove pan from heat; add lemon juice and zest. Mix gently until well combined. Serve topped with grated Brazil nuts.
Tasty Tips
The Brazil nut topping in this recipe replicates the Parmesan cheese used in a typical pasta dish. Grate the nuts with a rasp-style grater for the best results.