ZENB Penne Pasta Bake with Greens & Basil
SERVES 6
PREP TIME 5 minutes
COOK TIME 35 minutes
TOTAL TIME 40 minutes
NUTRITIONAL FACTS
Serving Size: 358g

Calories: 367
| | |
| --- | --- |
| Total Fat | 10g |
| Saturated Fat | 5.1g |
| Salt | 2mg |
| Carbohydrates | 39.1g |
| Fibre | 11g |
| Protein | 22g |
* Nutrition information is estimated based on the ingredients and cooking instructions as described in each recipe and is intended to be used for informational purposes only. Please note that nutrition details may vary based on methods of preparation, origin and freshness of ingredients used.
FEATURED IN RECIPE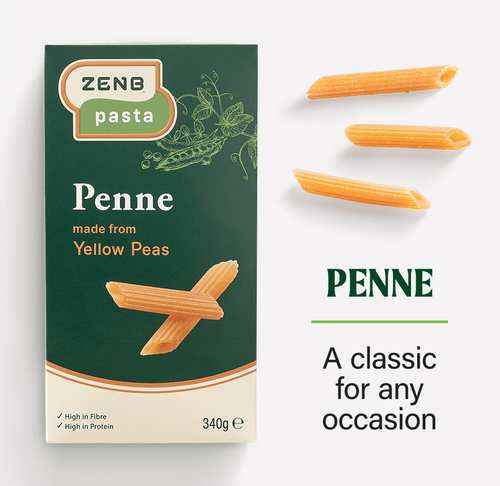 Penne Pasta
With a quick prep time, this Baked ZENB Penne Pasta with Greens and Basil recipe is a great way to enjoy a meal with your family. This recipe is high in protein and fibre and also high in vitamin K.
INGREDIENTS
1box (340g) ZENB Penne Pasta made from 100% Yellow Peas, uncooked
1 package baby spinach, coarsely chopped
3 cloves garlic, minced
1 can rushed San Marzano tomatoes
chopped fresh basil
¾ teaspoon salt
¼ teaspoon ground black pepper
22g whole-milk ricotta cheese
22g grated Parmigiano-Reggiano cheese, divided
22g shredded mozzarella cheese
small basil leaves
INSTRUCTIONS
1.
Heat oven to 200°C. Cook ZENB Pasta 2 min. less than directed on package. Reserve 1/4 cup pasta cooking water; drain.
2.
Meanwhile, cook spinach 3-4 min. in large, deep ovenproof skillet sprayed with cooking spray on medium heat until wilted. Add garlic; cook 30 sec., stirring constantly. Stir in reserved pasta water, tomatoes, chopped basil, salt & pepper. Bring mixture to a low simmer.
3.
Remove pan from heat. Add pasta; mix gently and smooth top. Combine ricotta and 2 tablespoons Parmesan in small bowl. Drop tablespoonfuls of ricotta mixture evenly over pasta. Sprinkle with remaining cheeses. Bake 20-25 min. or until edges are bubbling and cheese is golden brown. Garnish with basil leaves before serving.
Tasty Tips
Substitute your favorite shape of ZENB Pasta for the penne.
Drizzle each serving with a small spoonful of chopped Calabrian chiles in oil for a delicious kick of heat.