ZENB PASTA CHIPS
SERVES 10
PREP TIME 15 minutes
COOK TIME 10 minutes
TOTAL TIME 25 minutes
FEATURED IN RECIPE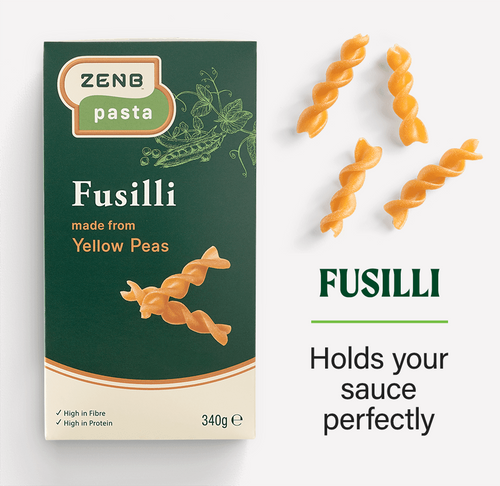 Fusilli Pasta
Looking for a healthy and quick snack that's sure to please? ZENB Pasta Chips to the rescue!
Using any of your favourite ZENB Pasta Shapes, this snack combines cheese and the assistance of your air fryer for a truly unique snack idea. A great snacking substitute idea for your next movie night. It is also low in fat.
INGREDIENTS
1 box of any ZENB Pasta
1 tablespoon avocado oil
3 tablespoons grated Parmesan cheese
½ teaspoon garlic powder
½ teaspoon Italian seasoning
¼ teaspoon sea salt
INSTRUCTIONS
1.
Preheat air fryer to 200C
2.
Cook ZENB Pasta as directed on package. Rinse pasta with water until cooled; drain well.
3.
Combine the pasta, oil, cheese and spices in large bowl. Then transfer to air fryer basket
4.
Air fry for 10-20 minutes, shaking basket every 5 minutes, until completely crisp and golden brown.
5.
Sprinkle with salt before serving.
Tasty Tips
Using an oil with a high smoke point, like avocado oil, is critical in an air fryer to eliminate excess smoke. Air fryers vary based on manufacturer. Read all manufacturer directions and recommendations before cooking.
For a perfect party paring, serve with ZENB Tomato and Carrot Hummus.
Substitute 1 teaspoon of your favorite seasonings or dried herbs for the garlic powder and Italian seasoning.