ZENB Macaroni Pasta with Lamb & Fennel Ragu
SERVES 4
PREP TIME 8 minutes
COOK TIME 60 minutes
TOTAL TIME 68 minutes
NUTRITIONAL FACTS
Serving Size: 639g

Calories: 633
| | |
| --- | --- |
| Total Fat | 19g |
| Saturated Fat | 8.2g |
| Salt | 2.3mg |
| Carbohydrates | 62g |
| Fibre | 18g |
| Protein | 36.1g |
* Nutrition information is estimated based on the ingredients and cooking instructions as described in each recipe and is intended to be used for informational purposes only. Please note that nutrition details may vary based on methods of preparation, origin and freshness of ingredients used.
FEATURED IN RECIPE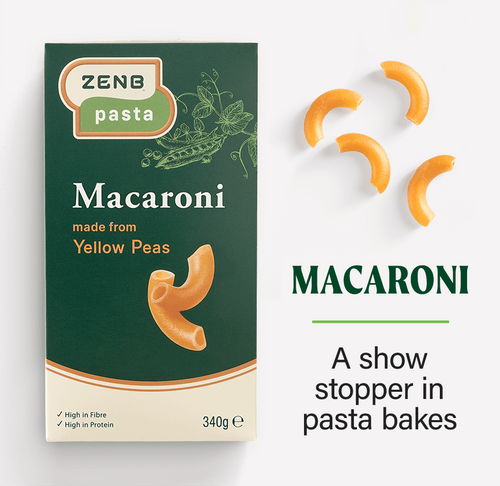 Macaroni Pasta
This chef-crafted recipe will be sure to impressions your friends and family. This dish combines ZENB Macaroni Pasta with lamb and fennel to bring protein and fibre that your taste buds will surely enjoy.
INGREDIENTS
1 box (340g) ZENB Macaroni Pasta made from 100% Yellow Peas, uncooked
450g ground lamb (85% lean)
1 small onion, finely chopped
1 medium carrot, finely chopped
1 small fennel bulb, cored, thinly sliced, fronds reserved
4 cloves garlic, thinly sliced
1-1/2 teaspoons herbes de Provence
3/4 teaspoon each salt & ground black pepper
118ml cup red wine
118ml low sodium chicken stock
793g crushed San Marzano tomatoes
1 navel orange, zested, juiced
6g chopped mint
2 tablespoons grated Pecorino-Romano cheese
INSTRUCTIONS
1.
Heat lamb in Dutch oven lightly sprayed with olive oil on medium-high heat. Cook 4-6 min. while breaking up the meat with a wooden spoon. Add vegetables, garlic, herbs de Provence, salt & pepper. Cook 4-6 min., stirring frequently until translucent. Add wine and stock; cook 4-5 min. or until liquid is reduced by half. Stir in tomatoes and olives; bring mixture to a boil.
2.
Reduce heat to low; cover. Simmer 30-35 min., stirring occasionally until thickened. Meanwhile, cook ZENB Pasta as directed on package. Drain.
3.
Remove pot from heat; stir in pasta, orange zest, juice, cheese and mint. Mix gently until cheese is melted and well combined. Sprinkle with reserved fennel fronds before serving.
Tasty Tips
Herbs de Provence is a fragrant dried combination of rosemary, thyme, summer savoury, lavender, marjoram, fennel, sage and bay leaves. It is delicious when used in stews, roasted or grilled meats.
For added depth of flavour, stir in ¼ cup sliced Niçoise olives into the sauce. Niçoise olives are small, black French olives produced in Provence. Utilize the olive bar in the deli section of the grocery store to buy the exact amount of olives needed in a recipe.