ZENB Macaroni Pasta Ratatouille
SERVES 4
PREP TIME 15 minutes
COOK TIME 33 minutes
TOTAL TIME 48 minutes
NUTRITIONAL FACTS
Serving Size: 571.56g

Calories: 516
| | |
| --- | --- |
| Total Fat | 18g |
| Saturated Fat | 2.8g |
| Salt | 1.8mg |
| Carbohydrates | 50g |
| Fibre | 16.1g |
| Protein | 23g |
* Nutrition information is estimated based on the ingredients and cooking instructions as described in each recipe and is intended to be used for informational purposes only. Please note that nutrition details may vary based on methods of preparation, origin and freshness of ingredients used.
FEATURED IN RECIPE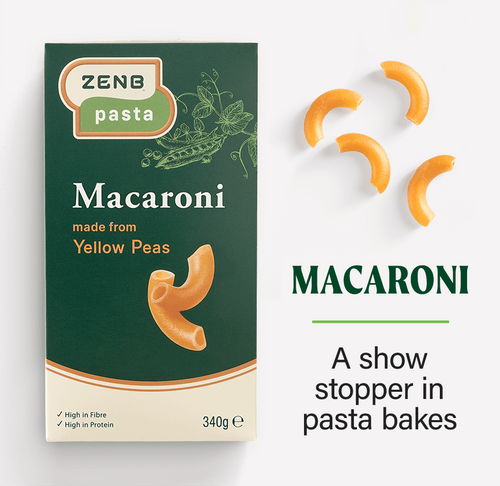 Macaroni Pasta
Enjoy this Ratatouille recipe made using ZENB Macaroni Pasta. Made using a variety of vegetables this colourful dish will be a tasty addition to your kitchen staples. This ZENB Pasta recipe is high fibre and is a source of protein. Enjoy!
INGREDIENTS
1 box (340g) ZENB Macaroni Pasta made from 100% Yellow Peas, uncooked
1/4 cup olive oil
2 cloves garlic, sliced
1/4 teaspoon crushed red pepper flakes
1 large courgette, chopped
1 medium aubergine, chopped
1 large red pepper, chopped
227g cherry tomatoes, halved
1 teaspoon salt
1/2 teaspoon ground black pepper
2 tablespoons red wine vinegar
1/4 cup grated Parmesan cheese, divided
1 handful of loosely packed fresh basil leaves, torn
INSTRUCTIONS
1.
Cook ZENB Pasta as directed on package. Reserve 1/3 cup pasta cooking water; drain.
2.
Meanwhile, heat oil in large skillet on medium heat. Add garlic and red pepper flakes; stir 30 sec. until fragrant. Add courgette, aubergine, red pepper, cherry tomatoes, salt & pepper. Cook 20-25 min., stirring frequently, until vegetables are very tender. Stir in vinegar.
3.
Add pasta and reserved pasta water to skillet; mix gently 2-3 min. until well combined with vegetables and heated through. Remove pan from heat; stir in half of the Parmesan cheese. Garnish with remaining Parmesan and basil before serving.
Tasty Tips
Make ratatouille sauce ahead of time and refrigerate for up to 3 days.