ZENB Macaroni Pasta e Fagioli
SERVES 6
PREP TIME 10 minutes
COOK TIME 35 minutes
TOTAL TIME 45 minutes
NUTRITIONAL FACTS
Serving Size: 539g

Calories: 314
| | |
| --- | --- |
| Total Fat | 11g |
| Saturated Fat | 3.7g |
| Salt | 1.9mg |
| Carbohydrates | 26g |
| Fibre | 10g |
| Protein | 17.1g |
* Nutrition information is estimated based on the ingredients and cooking instructions as described in each recipe and is intended to be used for informational purposes only. Please note that nutrition details may vary based on methods of preparation, origin and freshness of ingredients used.
FEATURED IN RECIPE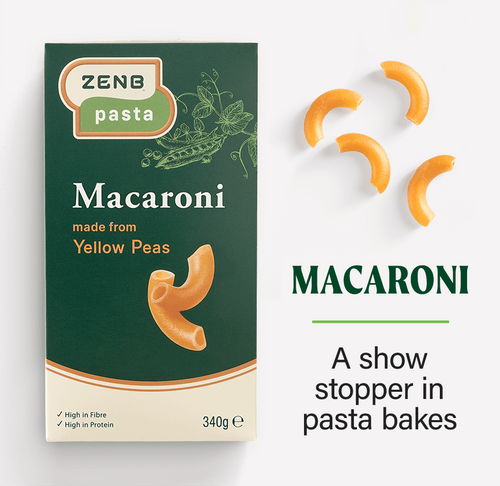 Macaroni Pasta
Get excited to cook up this low calorie version of the traditional Italian soup, Pasta e Fagioli. Using ZENB Macaroni Pasta, this dish delivers on taste while staying low in fat and sodium. Whether you want to enjoy this as a main dish or as part of a larger dinner, we cannot wait for you to give it a try!
INGREDIENTS
• 170g ZENB Elbow Pasta made from 100% Yellow Peas uncooked
• 1 tablespoon olive oil
• 57g pancetta, finely chopped
• 1 small yellow onion, finely chopped
• 2 cloves garlic, minced
• 1/2 teaspoon salt
• 1/4 teaspoon crushed red pepper flakes
• 1 tablespoon tomato paste
• 1419ml low sodium chicken broth
• 1 can chickpeas, rinsed
• 1 can diced tomatoes
• 1 sprig fresh rosemary, stemmed, chopped
• 45g grated Parmesan cheese, divided
INSTRUCTIONS
1.
Heat olive oil in large pot on medium heat. Cook pancetta 4-6 min. until golden brown and crisp. Transfer to paper-towel-lined plate with slotted spoon.
2.
Add onion, garlic, salt and red pepper to drippings. Cook 5-6 min., or until translucent. Add tomato paste; cook, stirring frequently until slightly darkened in color. Stir in broth, ZENB Pasta, beans, tomatoes and rosemary. Bring mixture to a boil. Reduce heat to medium-low; cover. Cook 11-13 min. or until pasta is tender.
3.
Stir in 30g parmesan cheese. Garnish with crispy pancetta and remaining Parmesan before serving.
Tasty Tips
For a slightly smoky flavour, substitute bacon for pancetta.