ZENB Lobster Pasta with Fresno Chillies & Mint
SERVES 2
PREP TIME 8 minutes
COOK TIME 22 minutes
TOTAL TIME 30 minutes
NUTRITIONAL FACTS
Serving Size: 728g

Calories: 675
| | |
| --- | --- |
| Total Fat | 13g |
| Saturated Fat | 1.7g |
| Salt | 3.2mg |
| Carbohydrates | 54.1g |
| Fibre | 15.1g |
| Protein | 62.1g |
* Nutrition information is estimated based on the ingredients and cooking instructions as described in each recipe and is intended to be used for informational purposes only. Please note that nutrition details may vary based on methods of preparation, origin and freshness of ingredients used.
FEATURED IN RECIPE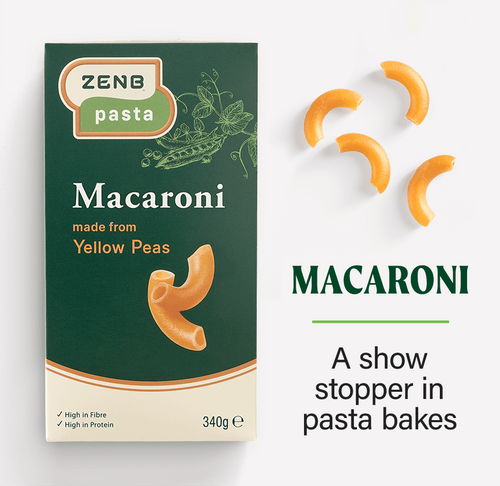 Macaroni Pasta
This ZENB Macaroni Pasta recipe combines lobster with Fresno chiles, mint and more to bring you a delicious dish. Not only will you enjoy the flavour, but you will also enjoy a dish that is high in protein and a source of fibre.
INGREDIENTS
170g ZENB Macaroni Pasta made from 100% Yellow Peas, uncooked
1 tablespoon olive oil
3/4 pound fresh lobster tail meat, cut into bite-size pieces (about 2 lobster tails)
2 cloves garlic, sliced
1 red Fresno chile, seeded, thinly sliced
200ml seafood stock
2 tablespoons brandy
1 tin Italian cherry tomatoes in juice
1 teaspoon white soy sauce
1/4 teaspoon salt
1 small lemon, halved
2 tablespoons loosely packed mint leaves
INSTRUCTIONS
1.
Cook ZENB Pasta 1 min. less than directed on package. Drain; keep warm.
2.
Meanwhile, heat oil in large skillet on medium-high heat until shimmering. Add lobster; cook 3-4 min, stirring occasionally until just opaque and edges begin to brown. Add garlic and chiles; cook 30 seconds stirring constantly. Transfer to clean plate.
3.
Remove pan from heat; add stock and brandy. Cook 3-5 min. on medium heat while scraping up brown bits from bottom of pan. Stir in tomatoes, soy and salt; simmer 8-10 min. until sauce is slightly thickened. Return lobster and any juices to skillet. Stir in pasta; mix gently until pasta is tender and well combined. Juice lemon half over pan. Serve immediately with mint and remaining lemon cut into wedges.
Tasty Tips
Frozen lobster tails are an excellent substitute for fresh. Quickly thaw frozen lobster tails by placing them in a tightly sealed plastic bag in a bowl of cold water for about 30 minutes. Drain, pat dry with paper towels and use immediately.