ZENB Fusilli with Pan-Roasted Sicilian Cauliflower Caponata
SERVES 2
PREP TIME 16 minutes
COOK TIME 15 minutes
TOTAL TIME 30 minutes
NUTRITIONAL FACTS
Serving Size: 227.96g

Calories: 270
| | |
| --- | --- |
| Total Fat | 9.1g |
| Saturated Fat | 1.2g |
| Salt | 0.8mg |
| Carbohydrates | 26g |
| Fibre | 7.8g |
| Protein | 13g |
* Nutrition information is estimated based on the ingredients and cooking instructions as described in each recipe and is intended to be used for informational purposes only. Please note that nutrition details may vary based on methods of preparation, origin and freshness of ingredients used.
FEATURED IN RECIPE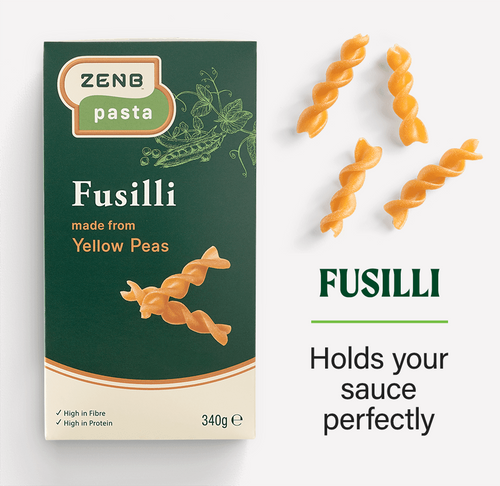 Fusilli Pasta
Elevate the flavours and nutrition of your at-home pasta night. This ZENB Fusilli Pasta recipe combines a variety of flavours to deliver a delicious, vegetarian pasta dish for two. You will also get a good source of fibre.
INGREDIENTS
170g ZENB Fusilli Pasta made from 100% Yellow Peas, uncooked
1 tablespoon olive oil
128g small cauliflower florets
1 large shallot, chopped
2 cloves garlic, sliced
1/4 teaspoon salt
1/4 teaspoon crushed red pepper flakes
1 tablespoon white balsamic vinegar
2 tablespoons salt-packed capers, soaked, rinsed
27g toasted slivered almonds
2 tablespoons grated Parmesan cheese
56g chopped Italian parsley
INSTRUCTIONS
1.
Cook ZENB Pasta as directed on package. Reserve 125ml pasta cooking water. Drain.
2.
Meanwhile, heat oil in large skillet on medium-high heat until shimmering. Add cauliflower; cook 4-6 min. until tender-crisp and florets begin to brown.
3.
Reduce heat to medium; add shallots, garlic, salt and pepper flakes. Cook 1-2 min. stirring constantly until shallots are translucent. Add pasta water, vinegar and capers; cook 3-4 min. until liquid comes to a boil. Stir in pasta and almonds. Remove pan from heat; add remaining ingredients. Mix gently until cheese is melted and well combined.
Tasty Tips
Salt-packed capers have a slightly meatier, more complex flavor than brined capers, but need to be soaked in water for about 15 minutes and rinsed several times before using. Substitute chopped mint or basil for the parsley.