ZENB Fusilli with Chicken, Roasted Red Peppers & Fresh Herbs
SERVES 4 Portions
PREP TIME 15 minutes
COOK TIME 13 minutes
TOTAL TIME 28 minutes
NUTRITIONAL FACTS
Serving Size: 453g

Calories: 536
| | |
| --- | --- |
| Total Fat | 10g |
| Saturated Fat | 2.9g |
| Salt | 1.4mg |
| Carbohydrates | 49g |
| Fibre | 13g |
| Protein | 43g |
* Nutrition information is estimated based on the ingredients and cooking instructions as described in each recipe and is intended to be used for informational purposes only. Please note that nutrition details may vary based on methods of preparation, origin and freshness of ingredients used.
FEATURED IN RECIPE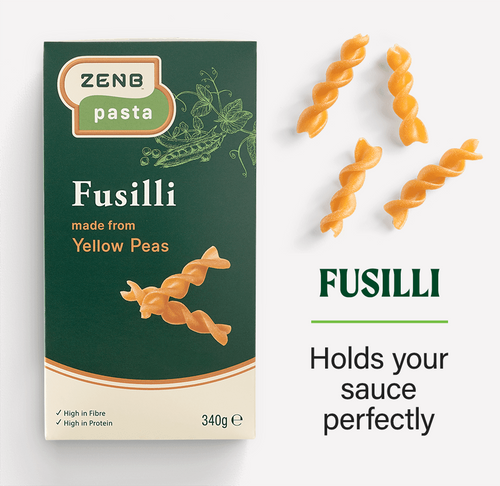 Fusilli Pasta
This recipe combines familiar ingredients to deliver a delicious pasta dish for four. You will get a good source of protein and fibre, all while staying low calorie and low fat. This recipe is a perfect way to enjoy ZENB Pasta with your friends and family.
Recipe by Chef Erling Wu-Bower
INGREDIENTS
• 1 box (340g) ZENB Fusilli Pasta made from 100% Yellow Peas, uncooked
• 1 pound boneless skinless chicken breasts, cut into bite-size pieces
• 1/2 teaspoon salt
• ¼ teaspoon ground black pepper
• 1 tablespoon olive oil
• 2 cloves garlic, sliced
• 125ml white wine
• 400g cherry tomatoes, halved
• 100g drained, oil-packed roasted red peppers, chopped
• 100g chopped basil
• 100g chopped Italian parsley
• 75g cup grated Parmesan cheese
• 1 small lemon, juiced
INSTRUCTIONS
1.
Cook ZENB Pasta as directed on package. Drain. Season chicken with salt & pepper.
2.
Meanwhile, heat oil in large skillet on medium-high heat until shimmering. Add chicken to skillet in single layer. Cook, undisturbed, 2 min. or until browned on one side. Stir; cook 2-3 min. until done. Transfer chicken to clean plate.
3.
Reduce heat to medium; add garlic. Cook 1 min. stirring constantly. Add wine; cook 2-3 min. until liquid is reduced by half. Stir in chicken and any juices, pasta, tomatoes and peppers; cook 1-2 min. until heated through. Remove pan from heat. Add remaining ingredients. Mix gently until cheese is melted and well combined.
Tasty Tips
Add 1 tablespoon butter to skillet with the herbs for an extra velvety sauce.
Oil-packed roasted red peppers are readily available online or at well-stocked grocery stores. Water-packed roasted peppers make a great substitute.
Substitute low-sodium chicken stock for the white wine.