ZENB Fusilli with Butternut Squash, Brown Butter, & Sage
SERVES 4
PREP TIME 15 minutes
COOK TIME 15 minutes
TOTAL TIME 30 minutes
NUTRITIONAL FACTS
Serving Size: 316.19g

Calories: 434
| | |
| --- | --- |
| Total Fat | 12g |
| Saturated Fat | 6.2g |
| Salt | 0.8mg |
| Carbohydrates | 50g |
| Fibre | 14g |
| Protein | 18g |
| Vitamin A | 765mcg |
* Nutrition information is estimated based on the ingredients and cooking instructions as described in each recipe and is intended to be used for informational purposes only. Please note that nutrition details may vary based on methods of preparation, origin and freshness of ingredients used.
FEATURED IN RECIPE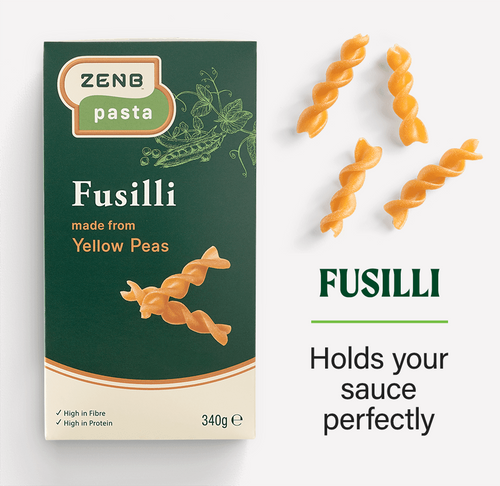 Fusilli Pasta
You will love the flavour of this ZENB Fusilli Pasta with butternut squash, brown butter, and sage recipe. Delivering an excellent source of vitamin A.
INGREDIENTS
1 box (340g) ZENB Fusilli Pasta made from 100% Yellow Peas, uncooked
1 teaspoon olive oil
280g cubed butternut squash, cut into ½-inch pieces (about ½ pound)
1/4 teaspoon each salt & ground black pepper
3 tablespoons butter
1 shallot, chopped
12 sage leaves
1 small lemon, juiced
INSTRUCTIONS
1.
Cook ZENB Pasta as directed on package. Reserve 2 tablespoons pasta cooking water; drain.
2.
Meanwhile, heat oil in large skillet on medium-high heat until shimmering. Add squash, salt & pepper. Cook 5-6 min. stirring occasionally until tender and edges begin brown. Add butter and shallots. Cook 1-2 min. stirring constantly until foam subsides and butter begins to brown. Add sage leaves; cook 2-3 min. until leaves are crisp. Transfer sage leaves to clean plate.
3.
Reduce heat to medium. Add pasta, reserved pasta water and lemon juice to pan; mix gently until heated through. Top with sage leaves and additional ground black pepper before serving.
Tasty Tips
Make prep easy by purchasing pre-cut butternut squash sold in the refrigerated section of the produce department. Butternut squash has a hard, tough skin that needs to be peeled before seeding and cubing.
Brown butter adds a delicious nutty flavor to both sweet and savory dishes. It is a result of the milk solids being toasted until browned. Always stir and watch butter closely during browning as it will burn quickly.
For 2 servings, this recipe can easily be cut in half.
Serve with freshly grated Parmigiano-Reggiano cheese for a flavour boost.