ZENB Fusilli Pasta Salad with Grilled Summer Veggies & Harissa Vinaigrette
SERVES 6
PREP TIME 15 minutes
COOK TIME 15 minutes
TOTAL TIME 30 minutes
NUTRITIONAL FACTS
Serving Size: 309g

Calories: 395
| | |
| --- | --- |
| Total Fat | 17g |
| Saturated Fat | 2.3g |
| Salt | 1mg |
| Carbohydrates | 38g |
| Fibre | 10g |
| Protein | 15g |
* Nutrition information is estimated based on the ingredients and cooking instructions as described in each recipe and is intended to be used for informational purposes only. Please note that nutrition details may vary based on methods of preparation, origin and freshness of ingredients used.
FEATURED IN RECIPE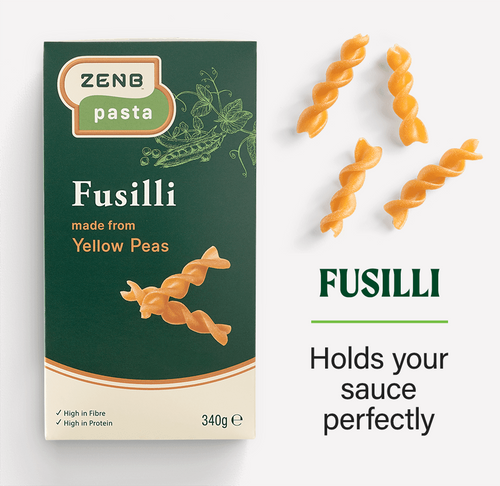 Fusilli Pasta
The perfect dish to enjoy in the summer, this ZENB Fusilli Pasta Salad combines flavourful summer vegetables with the spice of a harissa vinaigrette. This tasty way to enjoy your ZENB Pasta also delivers a good source of fibre and a good source of vitamin A.
Recipe by Lauren Lovatt 
INGREDIENTS
Pasta
1 box (340g) ZENB Fusilli Pasta made from 100% Yellow Peas, uncooked
113g cherry tomatoes, halved
1 tablespoon olive oil, divided
1 tablespoon tamari sauce
1 sprig fresh rosemary
1 large red pepper, stemmed, halved, seeded
2 ears fresh corn
Harissa Vinaigrette
78ml olive oil
1 large lemon, juiced
½ teaspoon salt
½ teaspoon smoked paprika
¼ teaspoon cayenne pepper
3 handfuls of torn salad greens
2 tablespoons toasted pepitas
INSTRUCTIONS
1.
Heat grill to medium-high. Cook pasta as directed on package. Drain; chill.
2.
Meanwhile, combine tomatoes, 1 teaspoon olive oil, tamari and rosemary in small bowl. Spoon onto large sheet of heavy-duty foil; fold in sides tightly to make packet. Brush red pepper and corn with remaining olive oil. Grill tomato packet 3-5 min. until sizzling and remaining vegetables 6-8 min. turning frequently until tender and lightly marked. Transfer vegetables to clean plate; cool. Discard rosemary sprig. Cut corn kernels off cobs.
3.
Combine roasted pepper and remaining vinaigrette ingredients in blender jar. Blend until smooth. Toss grilled vegetables, pasta, vinaigrette and greens in large bowl. Garnish top with pepitas before serving.
Tasty Tips
Tamari is a Japanese sauce made from fermented soybeans similar to soy sauce. While soy sauce is made with both soybeans and wheat, tamari is made strictly from soybeans and therefore, is gluten-free. For 2 servings, this recipe can easily be cut in half.