ZENB Fusilli Hot Harvest Bowl
SERVES 4
PREP TIME 10 minutes
COOK TIME 45 minutes
TOTAL TIME 55 minutes
NUTRITIONAL FACTS
Serving Size: 577g

Calories: 557
| | |
| --- | --- |
| Total Fat | 16g |
| Saturated Fat | 2.1g |
| Salt | 1.5mg |
| Carbohydrates | 58g |
| Fibre | 17g |
| Protein | 23g |
* Nutrition information is estimated based on the ingredients and cooking instructions as described in each recipe and is intended to be used for informational purposes only. Please note that nutrition details may vary based on methods of preparation, origin and freshness of ingredients used.
FEATURED IN RECIPE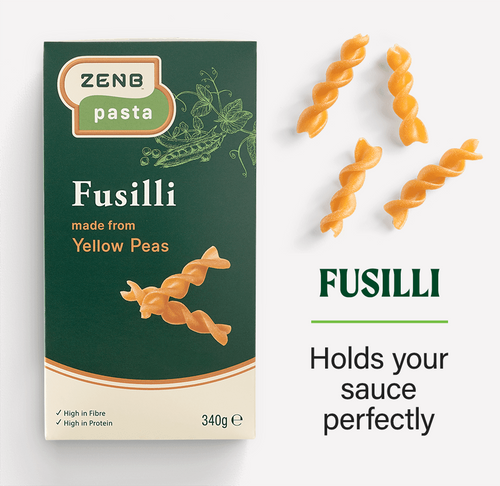 Fusilli Pasta
This vegan, gluten free recipe combines ZENB Fusilli Pasta with a variety of vegetables and a homemade roasted red pepper sauce. This dish provides a good source of fibre and the ability to swap in any of your favourite harvest vegetables.
Recipe by Lauren Lovatt
INGREDIENTS
1 box (340g) ZENB Fusilli Pasta made from 100% Yellow Peas, uncooked
1 medium beetroot scrubbed, cut into 1/2-inch pieces
1 medium carrot, scrubbed, trimmed, cut into 1/2-inch-thick slices
1 medium parsnip
2 tablespoons olive oil
1 tablespoon fresh rosemary leaves, coarsely chopped
1/2 teaspoon each salt & ground black pepper
Roasted Red Pepper Sauce
300g roasted red peppers, drained
1/4 pack oil-packed sun-dried tomatoes, drained
3 tablespoons sherry vinegar
2 tablespoons smooth almond butter
1/4 teaspoon crushed red pepper (optional)
268g loosely packed baby kale leaves
200g multi-color grape tomatoes, halved
2 tablespoons roasted pepitas
INSTRUCTIONS
1.
Preheat oven to 400°F. Place beetroot, carrots and parsnips on rimmed baking sheet. Drizzle oil over vegetables; sprinkle with rosemary leaves, salt & pepper. Bake 35-40 min. or until vegetables are tender with caramelized edges.
2.
Meanwhile, cook ZENB Pasta as directed on package. Reserve 125ml pasta cooking water. Drain; return to pot.
3.
Add all ingredients for roasted red pepper sauce in blender jar. Pulse 15-20 seconds or until smooth. Add reserved pasta water; blend 20-30 seconds until smooth. Pour mixture into pot with pasta. Cook 3-4 min. on medium heat until heated through.
4.
Divide pasta, roasted vegetables, kale and tomatoes evenly between 4 serving bowls. Sprinkle with pepitas before serving.
Tasty Tips
Other vegetables that would work well include Brussels sprouts, winter squash, onions or sweet potatoes.