ZENB Chicken Penne Pad Thai
SERVES 6
PREP TIME 12 minutes
COOK TIME 30 minutes
TOTAL TIME 32 minutes
NUTRITIONAL FACTS
Serving Size: 325g

Calories: 402
| | |
| --- | --- |
| Total Fat | 11g |
| Saturated Fat | 1.7g |
| Salt | 3.5mg |
| Carbohydrates | 44g |
| Fibre | 9g |
| Protein | 25g |
* Nutrition information is estimated based on the ingredients and cooking instructions as described in each recipe and is intended to be used for informational purposes only. Please note that nutrition details may vary based on methods of preparation, origin and freshness of ingredients used.
FEATURED IN RECIPE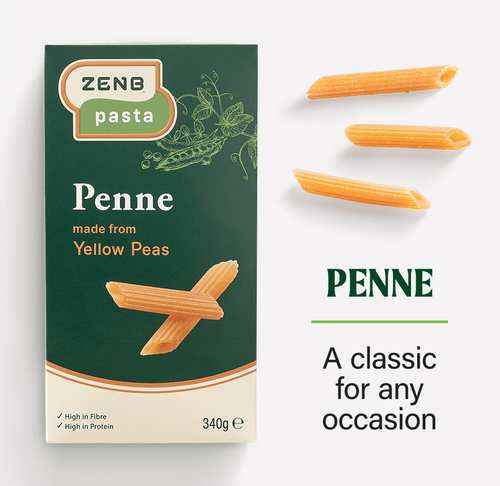 Penne Pasta
This Chicken Pad Thai recipe uses ZENB Penne Pasta as the base for this delicious dish. You'll enjoy the classic flavour combination while getting in a good source of protein. If you'd prefer to have a meatless dish, you can swap the chicken for firm tofu and enjoy the flavours just the same.
INGREDIENTS
• 1 box (340g) ZENB Penne Pasta made from 100% Yellow Peas, uncooked
• 60ml fish sauce
• 60ml fresh lime juice
• 3 tablespoons low sodium soy sauce
• 42g light brown sugar
• 1 tablespoon sambal oelek (Asian chili garlic paste)
• 2 tablespoons vegetable oil, divided
• 453g boneless skinless chicken thighs, trimmed, cut into bite-size pieces
• 1 red onion, thinly sliced
• 1 red pepper, cut into thin strips
• 1 green pepper, cut into thin strips
• 2 green onions, thinly sliced
• 22g chopped roasted, unsalted peanuts
• 22g fresh coriander leaves
INSTRUCTIONS
1.
Cook ZENB Pasta as directed on package. Reserve 125ml pasta cooking water; drain. Whisk fish sauce, lime juice, soy sauce, brown sugar and sambal in small bowl.
2.
Heat 1 tablespoon oil in large skillet on medium-high heat until shimmering. Add chicken; cook 10-12 min. or until browned and cooked through. Transfer chicken to clean plate.
3.
Heat remaining oil in same skillet. Add onions and peppers; cook 6-8 min. until tender-crisp. Add pasta, reserved pasta water, sauce mixture and chicken to skillet. Mix gently until well combined. Sprinkle with green onions, peanuts and cilantro before serving.
Tasty Tips
For a meatless dish, substitute cubed firm tofu for the chicken.