ZENB Chicken-Broccoli Alfredo Mac and Cheese
SERVES 6
PREP TIME 10 minutes
COOK TIME 20 minutes
TOTAL TIME 30 minutes
NUTRITIONAL FACTS
Serving Size: 385

Calories: 562
| | |
| --- | --- |
| Total Fat | 23g |
| Saturated Fat | 12.5g |
| Salt | 1.8mg |
| Carbohydrates | 37g |
| Fibre | 7.7g |
| Protein | 40g |
* Nutrition information is estimated based on the ingredients and cooking instructions as described in each recipe and is intended to be used for informational purposes only. Please note that nutrition details may vary based on methods of preparation, origin and freshness of ingredients used.
FEATURED IN RECIPE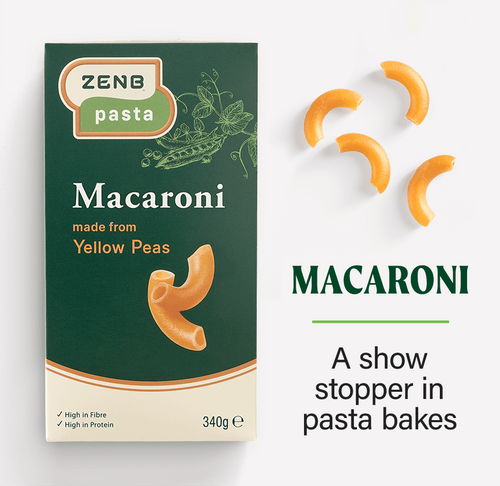 Macaroni Pasta
Dive into this creamy, delicious recipe featuring ZENB Macaroni Pasta. Combining chicken, broccoli, and cheese, this alfredo mac and cheese is a great way to feed your family. Get excited to enjoy this delicious ZENB Pasta recipe! This recipe is High in Vitamin B12, High in Calcium and High in Phosphorus.
INGREDIENTS
1 box (340g) ZENB Macaroni Pasta made from 100% Yellow Peas, uncooked
Two handfuls of small broccoli florets
1 tablespoon unsalted butter
500g boneless, skinless chicken breast, cut into bite-size pieces
1/2 teaspoon of both sea salt & ground black pepper
350ml unsweetened condensed milk
250g shredded Monterey Jack cheese
64g grated parmesan cheese
INSTRUCTIONS
1.
Cook ZENB Macaroni Pasta as directed on box, adding broccoli florets during last 6 min of cooking. Reserve 250ml pasta cooking water; drain.
2.
Meanwhile, melt butter in large pan on medium-high heat. Season chicken with salt & pepper. Cook for 6-8 min, stirring frequently, until browned on all sides. Transfer chicken to clean plate.
3.
Add milk and reserved pasta water to the same pan; bring mixture to a low boil on medium heat. Reduce heat to low. Add cheeses; whisk until cheese is melted and smooth. Stir in pasta, broccoli, and chicken. Mix gently until well combined.
Tasty Tips
For a lighter option, use non fat condensed milk.